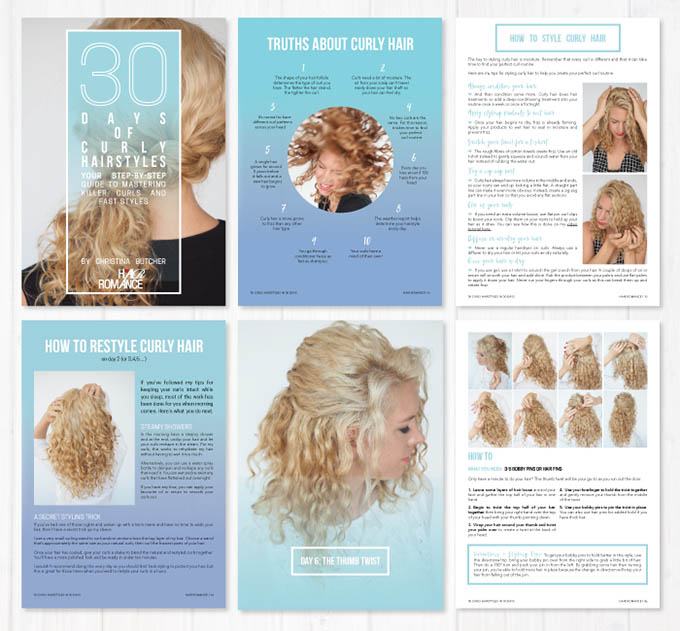 Checkout my review of Christina Butcher's 30 Days of Curly Hairstyles; one-part curl survival, three-part style inspiration. By the end you'll be bursting with ideas and love for your twisted locks!
---
Bored of your curls? Fed up that your styles seem to flit between the ponytail and just plain down look? Well here's something to shake you out of curl banality. New York Times' bestselling author, blogger and curl queen Christina Butcher, introduces her e-book 30 Days of Curly Hairstyles, a complete compendium to twisted tendrils that ranges from essential curl care to step-by-step simple braids and intricate up-dos. Given that I'm a complete klutz to styling, I decided to grab a copy and see what it's all about. But let me set the scene for you…
August 2010, in a hotel suite somewhere in rural Kent. I was last in line out of the bridesmaids to get my hair done. I couldn't contain my excitement; as I looked on, the hairstylist whipped up such cute styles for the three girls (all with straight hair) before me; cute chignons, side buns all with the same jewelled hair band for decoration. But when it came to me, she scrunched up her mouth, her head went to an angle looking at my curls. She held the head band not really knowing what to do. I was poised waiting for the answer to come. In the end she just said "I'll let you take care of it".
I've been bridesmaid a further three times and at no time were my curls styled especially well. Either it was straightened so that the hair became more pliable, or I had to do it. It made me angry. Why call yourself a wedding hairdresser if you can't style all types of hair? Since then I've seen very little of beautiful naturally curly hairstyles. I'm rubbish with hair anyway but bereft of any inspiration, I resented my curls more.
And so has been my frustration with curls. Until I discovered Thirty Days of Curly Hairstyles. It caught my attention for two reasons: 1) I have never seen a book dedicated to curls EVER. 2) I've never seen styles that can be done on NATURAL curly hair…EVER! The chance to free myself of boring curls was finally here.
I've been bridesmaid a further three times and at no time were my curls styled especially well. Either it was straightened so that the hair became more pliable, or I had to do it. It made me angry. Why call yourself a wedding hairdresser if you can't style all types of hair?
---
The Book:
Any curl veteran knows that searching for a definitive guide to cultivating flawless frizz-free curls, is like piecing together a puzzle. A cutting from a hair magazine here, random nuggets of advice there. But 30 days brings it all together in 129 pages.
Thirty Days works on two levels: 1) it is curly hair upkeep 101 for the novice who's taken a brave step into the natural hair world. she holds you hand with tips on product selection, drying techniques and the motivation to keep you going. Moreover for the more seasoned curly kella, it gives you the inspiration to get more out of your textured mane. And the styles are just beautiful.
I'm somewhere in the middle. I've got my styling routine down to an art with a stuffed cabinet containing all the essential elixirs for curl creation; coconut oil, shea butter shampoo and conditioner, serums, creams etc. I've even bagged myself an editorial-worthy hairdryer with diffuser which is a god send. Where I fall short is being more adventurous with my styles. Add in the fact that I'm literally all thumbs when it comes to plaiting and have little patience, I come up blank with ways to dress up my curls.
Looking through the various hairstyles, some look pretty tricky, which would certainly keep you expert stylists busy. But don't worry; if like me you're a bit green when it comes to hair, there are some simpler, but equally pretty, hairdos that are in your grasp.
Each style comes with a step-by-step guide accompanied by photos and written commentary. You know exactly what you need and Christina shows ways it can be adjusted for those with shorter lengths.
If at all it's a great incentive to bring out the elastic bands and bobby pins and just practice. And that is the point: to practice and have fun. You can tell how much Christina loves hair. The photography is gorgeous and captures the stunning styles that can be achieved through curls. Her advice and style tips are right on and even I learnt something new – all this time I had been using bobby pins/kirby grips incorrectly!
The Author:
Based in Sydney, Christina Butcher started Hair Romance in 2010 to help other women love their hair. She too went through the initial frustrations of an unruly mane that wouldn't quit. But the turning point came when she got that haircut- the one that got her loving her curls. Since that eureka moment, she's dedicated her site, Hair Romance, to bring women inspiration and fun to styling their hair. Her tutorials include seasonal looks, bridal styles and how to master the art of braiding. As all curly girls are aware, managing our tendrils can be a never-ending battle. But Christina does all the styles in her own hair and takes all the photos too. She's not a hairdresser and believes if she can do it, you can too!
My Verdict:
This is a real must-read. It's got something for everybody. When I show it to my friends, they marvel at the beauty of curls and throughout my curly-hair journey that is the most important thing: to raise self curl esteem and realise that curls are just as beautiful and manageable as other textures.
In just under four months I've got another wedding to prepare for. Before, I had settled on styling my hair in the boring normal way. But now with 30 Days I have a style bible by my side and come November I hope to achieve crowning glory with my curls.
---
More info:
To get your copy of "30 Days of Curly Hairstyles, click here,  (RRP $14.95)
If you want to learn more from Christine, or view her tutorials visit her blog: www.hairromance.com