Hold up, she said what? Yep you read right. After all for a region that is called the playground of the rich, you can expect Amalfi Coast to be over priced, poncy and a bit pretentious. But let's face it, when you're on the doorstep to some of the biggest stars, Sofia Loren, Armani to name a few, it's no surprise!  Yet look passed the glamour, glitz, 5-star restaurants and cliff-top views, there's a more down-to-earth beauty about the Amalfi Coast.

This I came to learn after a 5-day visit in July ( high season) to celebrate my dad's 69th birthday. As my sisters and I were paying for everything,  budget was relatively tight so we could not indulge in too much. But it meant we had to be more creative and as a result we got a more authentic insight into this gorgeous part of Italy and the not so obvious beauty of Amalfi. 
So here they are, my 5 reasons not to go Amalfi teemed up with 5 reasons you really should:
1) Don't go to the Amalfi Coast in search of lodgings with clifftop views. Instead…
…Opt for a quaint B'n'B tucked into one of its towns.
High season makes it virtually impossible to score accommodation that overlooks the verdant splendour of Positano or Capri. We could not find anywhere to stay, and any availability was at an exorbitant price. So with a bit more research we turned our gaze towards the town of Amalfi. Admittedly it is not as plush as the heavyweights of Capri nor Positano, but it is perfectly situated between all the touristy things you want to do.
We chose to stay at the Residenza Luce. Trip Advisor highly rates this little gem of a BnB where as other sites go so far as to list it among the best in Amalfi. Tucked into an alley on Via Gerardo Sasso, it's a 2-minute walk from the Marina (to catch ferries to Capri, Sorrento, Positano) and you have a great selection of cafes, restaurants, shops, banks and supermarkets. Sure it wasn't as snazzy nor breathtaking but the location was spot on and the price was within our reach. Staff were FANTASTIC (Example: Disappointed that we couldn't see the Blue Grottoes in Capri -too many people- staff at Luce said that we should try the emerald caves in Amalfi. They're equally impressive without the gruelling wait.) and were armed with useful insider knowledge.
Bedrooms are light and airy with floors and walls decorated in hand-painted tiles that are characteristic of the Mediterranean. All rooms are accessorised with balconies. Ours overlooked the main square – one night we got prime spots overlooking an outdoor orchestra- part of the classical music festival in Amalfi – and breakfasts are taken on the outdoor roof terrace, which makes for very pleasant and picturesque mornings!

---
2) Don't go to the Amalfi Coast to just sun yourself on a remote beach. Instead…
…Get talking to the friendly locals
It's tempting I know but spending your entire stay splayed out on an exclusive beach or frequenting the designer shops, just doesn't do justice to the Amalfi experience. I often comment on how friendly Italians are and in the Amalfi Coast they're no different. They are warm, inviting, curious and down to earth, a real contrast to their hoity-toity clientele, who remain aloof on their yachts.
I met Francesco, an earnest taxi driver, currently juggling his life between wedding prep and renovating his newly-purchased maisonette; Vincenzo and his mother-in-law Lidia our hotel owners, who were just as fearful of BREXIT as I was. Their receptionist Maria, a young dreamer with a tattoo of a world map on her back, is an avid traveller with a voracious appetite to explore all corners of the globe. As High Season ends she will leave Amalfi, as do all those in hospitality, to take a break and then find work in other parts of Italy. All of these characters really added colour to our stay and highlight the humble day-to-day living in Amalfi – very far from the region's affluent image.
---
3) Don't go to the Amalfi Coast to make a beeline for Capri, Positano and Sorrento. Instead…
Go for the quieter more serene towns like Ravello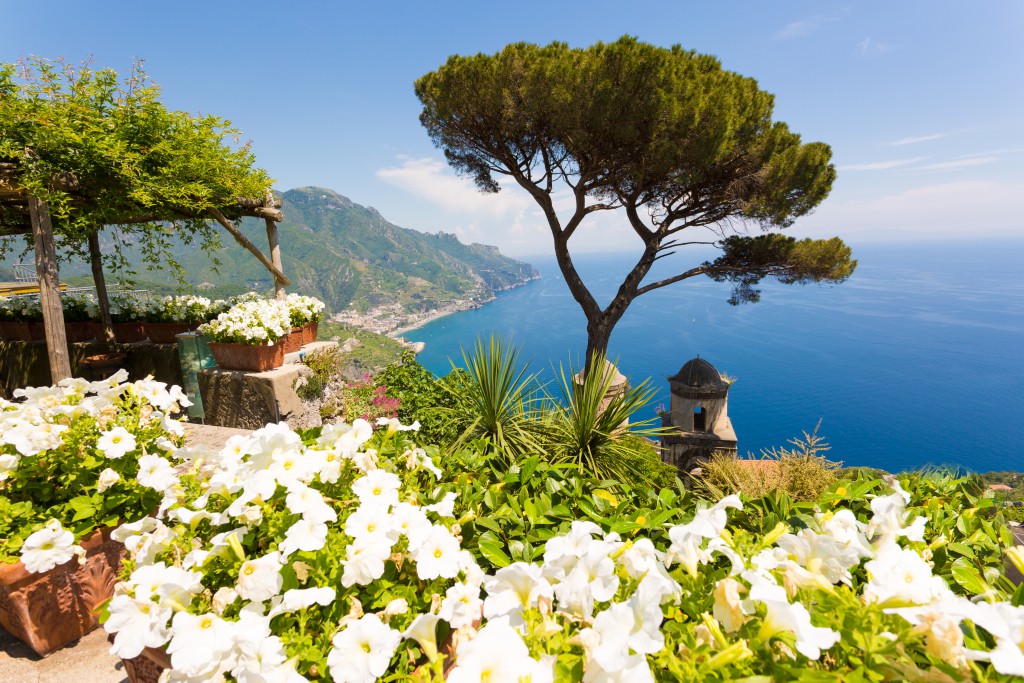 A few of my friends told me about Ravello – a small town about 20 minute bus ride away from the town of Amalfi. In the past it hardly registered on the tourist's radar but word of mouth seems to have brought it out from the shadows. Still, compared to previous days spent in Capri and Pompeii (hectic, stressful and expensive), Ravello is palpably calmer, peaceful and the views are fan-bloody-tastic!
Earmark a day to explore the Villas Cimbrone and Rufolo. Villa Cimbrone is a 15-minute walk from the main square and as you follow a gentle ascent you will see stunning views of the cliffs and sea on one side, stone walls blanketed in bright scented flowers and vines on the other. The villa's gardens are its winning features with rose gardens and an outdoor cafe beside panoramic views of the sea. Villa Rufolo can be reserved for your return as it's right by the main square. It is a popular venue for outdoor classical music concerts, and when you see the spot you will see why.
---
4) Don't go to the Amalfi Coast on a totally low budget. Instead…
…Allot one meal to 5-star glamour
OK so it is the Amalfi Coast, you can't slum it all the time. Just give one night over to a classy meal or, if purse strings are truly straitened, a great dessert at one of its upmarket eateries. You need to experience the exclusive setting, attentive service, and ambient mood of the region. We celebrated our father's actual birthday at Santa Caterina, a lovely hotel seated on top of a cliff. We were escorted in to a glass lift that takes us on a vertical descent down the cliff face. There staff treated us to a glass of champagne on the terrace before showing us to our table at its restaurant al mare which overlooks the sea. By candlelight a string trio played our favourite songs while we took in some fantastic food and views. It was pure magic and worth the experience, even if only once.
AND FINALLY:
5) Don't go to the Amalfi Coast with a packed itinerary. Instead…
Go with the flow
So this is the one mistake I made and chief regret. We were only there for five days (couldn't really afford more) and crammed lots in. Therefore I figured I could do away with packing my swimmers since there was no time to take a dip. FAIL! As a beach lover how could I ignore the stunning crystal clear waters that twinkle in the sunlight? Talking of sun, it was 30C every day and it made all the sight-seeing rather torturous and stressful. In Positano there was hardly anything to do, so it would have been the perfect time to take to the waters. But no, without my swimsuit I resorted to a gelato instead. If I had my time again I would have taken my bathers and enjoyed a cooling dip in one of the most iconic places ever!
So a word of wisdom: if time is short, because budget is tight, forego some of the tourist traps. Instead enjoy some free time and dial busy-ness down a level. Yes there is so much to see and do there, but really, Amalfi is a holiday that needs to be savoured.