This trip came to me about eight years ago. I was watching Channel 4's "A Cook's Tour of Spain" with Masterchef winner Tommi Miers. She travelled through Spain starting in Andalucia and traversing north to Galicia unearthing timely food traditions including harvesting saffron and curing meats.
It got to me good; the tasty food, exotic landscapes, locals whipping up specialities in their humble village houses! I wanted to go on this kind of trip, and for years I spent endless lunch hours in the travel sections of Waterstones nosing through Spain guides, planning destinations.
Then in March 2013 I was in Melbourne back from an action-packed 3 weeks' travelling around the West Coast of Australia. I was in love with adventure and wanted more. With my 30th coming up, I grabbed the opportunity to finally do my Spanish trip.
And it went a little like this…
I jumped on Facebook to invite friends on this odyssey. The short list took ages to draw up but in the end it went like this: starting in the East in Barcelona, travelling clockwise to Valencia, Granada, Cordoba, Seville, Salamanca, Leon, Pamplona and San Sebastian. Four months later I touched down in Barcelona with Amy and later Ebun then Kerrie. I then met up with my sisters in Granada for the Andalucía leg. From Salamanca onwards I went it alone.
The entire three weeks were so much fun and I met the most interesting people and cultures. You think you know Spain after one city? Think again! From the cooler climes of Navarra to the searing heat of Andalucía, you will really appreciate this country's rich and diverse culture!
I won't provide an exhaustive account of each city, a guide book can see to that. However if you want to check out my experiences, visit my travel gallery or find me on Instagram! Otherwise below are my highlights.
Highlights and best of's.

Best train journey: The overnight RENFE train from Valencia to Granada. At 1am, it was cramped and pretty intense. But after a snooze you wake up and take a glimpse outside. You will see beautiful landscapes bathed in soft amber sunlight as the train curls around the hills. Really. rather.lovely!
Best Accommodation:
> Aloha Hostel in Pamplona, Calle de Sangüesa, 2-1º, 31003 Pamplona, Navarra, Spain
Five mins walk from the bus station (where you can take bus trips to San Sebastian and Bilbao) and a really convivial atmosphere. The owners Hugo and Guillermo give the warmest welcome (big Game of Thrones fans) and morning breakfasts on the terrace are a great chance to meet other lodgers.
> 
Hostal La Fuente, Calle San Fernando, 51, 14003 Córdoba, Spain
Not at all hostel-ish but a very quaint, pleasant hotel. The town itself is rather sleepy in the stiflingly soporific heat so it's great for relaxation and about 15 mins walk from the Mesquita.
Best Eats:
Casa Guinart , Les Rambles, 95, 08002 Barcelona, España
Just next to Boqueria. The food was sumptuous and presented like poetry; escalopes plunged in buttery sauces drizzled over in Balsamic sauce with plumes of herbs sprouting inbetween.

Casa Carmela, Isabel de Villena 155, 46011 – Valencia – Spain
Another must-eatery is this rustic gem right near the beach. Go for their signature paella range. If you're not sure what to go for, the waiters are wonderfully informative and you get to have a sneak peek into the kitchen to see this rich dish prepared. Ebun and I were stuffed.
Best Shop:
For its quirky art and cool wares I have to give it to Basque brand Kukuxumusu in Pamplona. Meaning 'kiss of the flea' in Basque, the company was founded in 1989 Pamplona's San Fermín festival. Three friends made souvenir T-shirts depicting the bull-running and bull fights. The company gradually grew and is now one of the key images of San Fermín; in addition to clothing they also produce other goods such as chinaware, keyrings and postcards. Kukuxumusu has exclusive shops in Pamplona and all the main cities within the Basque Country and also in the rest of Spain.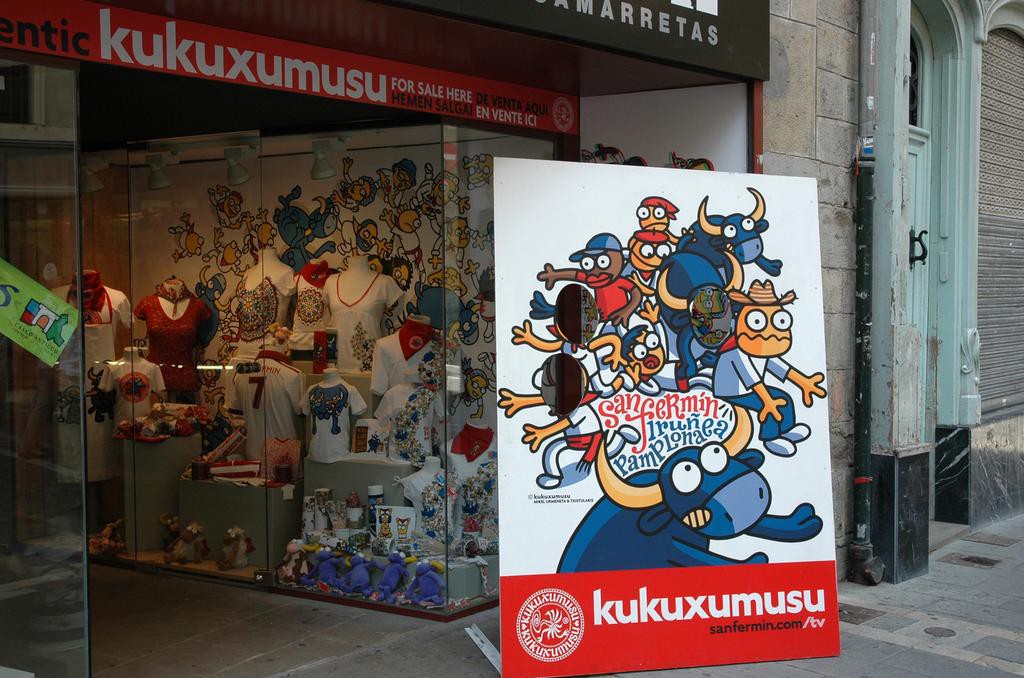 Top Attractions:

> Food: Barcelona: El Boqueria- a foodies' delight with anything you can eat up for grabs.
> Culture: Real Alcázar de Sevilla. A royal palace in Seville, originally developed by Moorish kings.  It is the oldest royal palace still in use in Europe, and was registered in 1987 by UNESCO as a world heritage site. I have to say that it surpassed the Alhambra with stunning fountains and pools, monumental tapestries and interlocking gardens. No wonder it is renowned as one of the most beautiful in Spain, being regarded as one of the most outstanding examples of mudéjar architecture found on the Iberian Peninsula.
> Art: Museo de Bellas Artes de Sevilla. Now I've been to the Prado and Reiña Sofia in Madrid and the Guggenheim in Bilbao. But this beautiful museum wins for sheer charm. Set in the old Merced Calzada Convent, which dates from the beginning of the 17th century, its collection includes works that go from the Gothic period through to the 20th century. Fans of El Greco, Pacheco and Zurbarán should make this a stop. My personal favourite however is José Villegas Cordero's La Muerte del Maestro (below). It takes up one whole wall and the use of impasto to capture the ornate matadors' outfits is stupendous.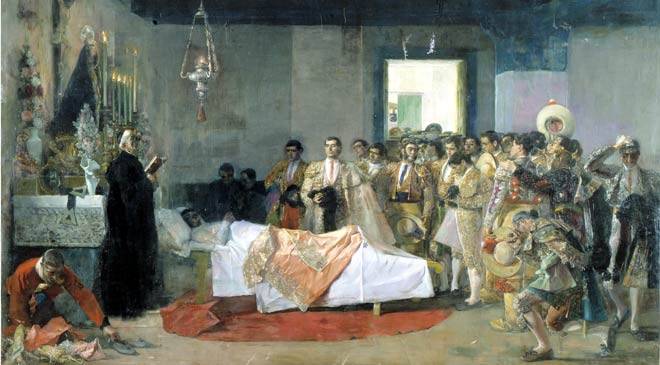 > Sport: Camp Nou, Barcelona, home of the world class football team with a very interesting museum, gleaming with trophies and memorabilia.
> Romance: Plaza España, Seville; located in the Parque de María Luisa, this ambient square was built in 1928 for the Ibero-American expo of 1929. Ringed by a Venetian-style canal, it's well worth your while to spend a late afternoon amble taking in its beautiful Renaissance architecture.
> Beach: Playa de las Conchas, San Sebastian. Perhaps the summer weather made it look beautiful but this stretch of coastline in the North of Spain, reminded me of the French Riviera- crystal blue waters, yachts moored in the harbour and classy Spaniards everywhere.