Tourism; whether you're the holiday maker taking some vital vacay or the local ducking and diving in between dawdling visitors, you can't deny the benefits it brings to an area. My time in Florence certainly highlighted that. After Rome and Venice, Florence is the next most popular Italian tourist destination and why not? It houses over 60% of the world's art heritage, boasts architectural feats such as Brunelleschi's Duomo and is the birthplace of luminaries, Michelangelo, Dante, and Niccolo Machiavelli. Sixteen million visitors a year flock to the city to pay their dues and Florence's economy thrives on it! Restaurants, hotels, museums and tour agencies all revolve around attracting foreigners to make big money. But it's not the just the conventional establishments that are capitalising. There is a growing group of young and intrepid entrepreneurs riding the wave. I talk to three such locals, restauranteur Federico, Martina who manages holiday apartments and historical tour guide Andrea who have started their own businesses in tourism and are doing bloody good job at it too!
Come Dine with Me: Running a Restaurant in Florence
I have always worked in Florence,  I don't care about the competition, I only wish to become someone in my city!
You've got to be gutsy to open a restaurant in Florence. It's a city brimming with cafes, trattorias, bars, bar/clubs, bars/restaurants…well you get the point; competition is fierce. Plus you Never.Ever. want to be THAT place to have failed the Florentine-food brand. A Bistecca alla Fiorentina badly cooked or a paltry pasta dish that is far from premium is just going to earn you lifelong infamy – and Italians are mercilessly unforgiving when offended by food!
But for Florentine Federico Tacconi, such challenges haven't fased him: "From working in so many places…I have a good idea of prices, dishes that would prove popular with the clientele and how to treat customers." Since opening his flagship restaurant L'Ortone in 2014, Federico's cocksure attitude might not be so misplaced. Six years in he's amassed followers around the world carving out a signature service that presents "food of the poor" within an elegant atmosphere. He's been featured in culture magazines and scored stellar reviews on restaurant platforms such as Trip Advisor and The Fork.com. It's no stroke of luck, rather a recipe that is five parts knowing your stuff to ten parts true grit and determination.
Il Padrone (The Boss)
I wonder what made Federico want to open a restaurant. With plucky surety he tells me: "I've been preparing for this my whole life" and with a prompt from me, his story unfolds. Federico is heart and soul Florentine. Born on the city's Saint's Day, San Giovanni (24th June), he wears his city on his sleeve- quite literally as its historic skyline is tattooed on his left arm. He lives in the hipster suburb of San Frediano with his girlfriend and trusted dog Nube. Outside of the restaurant he plays football and is a devoted member of "La Violas" (Florence football club). Federico grew up in and among fine foods and wine. He comes from a close-knit family headed by Babbo Simone, a seasoned wine seller and avid cook. So naturally when the time came, he studied Hospitality and for five years learnt the ins and outs of the industry. He worked in restaurants all over Florence and at the Michelin-Star Osteria di Passignano in the Chianti region. At the age of 23 he travelled to New York to manage waiters at Il Matto (now closed) in the fashionable quarters of Tribeca. After coming back Babbo Simone, looking for a second venture since the internet was starting to undermine his wine business, suggested they team up and open a restaurant.  
…setting up a restaurant in…Florence's historical centre can set you back 25,000€ a month. With an already colossal overhead if you business doesn't serve up a storm, there'll be no money to repay those necessary loans…
Federico readily accepted but of course a dream remains only that unless it's got the money to back it up. That meant looking for investment and being smart with it. As you can guess rental space in Florence is astronomically high; setting up a restaurant in its historical centre can set you back 25,000€ a month. With an already colossal overhead if your business doesn't serve up a storm, there'll be no money to repay those necessary loans. In fact poor financial management is the main reason upon which a restaurant in Florence can take a vertical nosedive: "I've known restaurants here to fold within six months, even three", says Federico which just shows how precarious a business venture is in Florence. With such cautionary tales in his mind, Federico decided to be more clever and look further afield. After a few years he happened upon a site that provided the perfect backdrop. In Florence there's a trendy suburb called Sant'Ambrogio filled with cool cafes, bars and trattorias that surround a beautiful food market. Just opposite that market stood a once famous pizzeria that had gone bust a year ago. For Federico his search had ended: "The position was lucky because it was just outside of the ZTL  (Limited traffic zone), next to underground parking and faced the food market".  With the rent only 3000€ a month, his business would be much easier to finance. Having said that Federico had to take out loans amounting to 50,000€ from five different banks where family members used their homes as collateral!
No pressure right? Well while Federico is the frontman, L'Ortone is a family affair. Under the guidance of his father, Federico enlisted the help of his uncle and expert builder, Zio Giacomo, and younger brother Lorenzo to renovate the premises. The first things to be pinned down were the kinds of wood, iron, colours and lighting to create just the right kind of atmosphere. The result is a stylish two-storey restaurant set out in warm earthy terracotta colours with exposed stonework to recall the rustic solitude of country life. The entrance is set up like a bar with a counter backed by a shelved wall stacked floor to ceiling in wine, prosecco and various regional digestifs. High tables and stools line the back that leads to a side room dressed up in a classic layout bathed in mood lighting. Upstairs is private dining area and the kitchen.
But what's the point of a  nice-looking background if the food doesn't deliver? A top chef is surely a must but I wonder how you go about finding one in town that presumably must be spilling over in talent. Federico's method is very simple: "For me  it's not about getting the best talent. I look out for someone young…, passionate about their craft, and most of all who has great ideas…"  In the early days Federico called on his friend Davide Chen, a Chinese Florentine, with whom he studied hospitality. Where Federico mastered the art of being a top Maître-d, Davide specialised in Tuscan cooking. At first the pair played it safe with the menu, concentrating on popular basics such as Spaghetti al Pomodoro and la Guancia. They then decided to do a test run. Federico recalls: "It was crazy…we invited friends and family to the opening and recreated a simulated version of the service to see if we were ready. It was tough but lots of fun!"
Fast forward to today L'Ortone now has two dedicated chefs, Giacomo and Simone, who have created a menu that is vastly different: "We change the menu every three months on the basis of the what ingredients are in season. We always look for new combinations that bring out the best in Italian and Florentine dishes!" Innovation aside the classic staples never change: "The first thing you need is to have a T-bone steak and meat…and the quality must be the best". The best quality for Federico was to be found at Soderi in Florence's Mercato Centrale. Having struck a deal with its boss he now secures the finest quality: "(We agreed that) the meat has to be kept for at least 25-30 days before delivering it to me so once it reaches the table it will have had 40 days to mature which is perfect…That's the Florentine steak!" Next is the pasta: "Pasta for us (Italians) is automatic, it's an obvious feature. At first we started with dried pasta then month by month we started to make our own…" And to complement it all is a comprehensive but careful selection of wines (90% of which is bought on wholesale price from Babbo Simone) because as Federico attests "everyone in Italy has a little idea of he wine, so you can't cheat them!" The result? An artistic fusion bringing the traditional favourites to a contemporary palate and it's going down a treat with locals and internationals alike.
I mentioned that L'Ortone is into its sixth year and for Federico that's a significant milestone. "If you can survive the first five years as a restaurant then you can make it", he says. Since it's opening, he's been using the money made to repay the bank loans. However next year the last of the loans will have been paid off meaning from there onwards he will be able to put his profits back into the business and expand his dreams of opening more restaurants and retiring to South America, no doubt kicking back with its own culinary masters.
Federico's Guide to Serving 5-Star Dining 
* Maintain high quality at an affordable price
*Keep an eye on your overheads
*Always smile
* Have patience and perseverance
* Keep staff morale high
* Never think your best is good enough
* Have the  passion
If you're in Florence, head on down to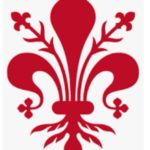 L'Ortone: Piazza Lorenzo Ghiberti 87 R (Red), 50122, FI  Firenze, Italy t:+00 39 055 234 0804
_____________________________
One Fine Stay – Managing Holiday Homes in Florence
Tourism brings more than just financial benefits to Florence. It revitalises and invigorates communities. It connects people from stranger to friends and family. It is a platform for learning…a vehicle for adventure!
Florence's increasing popularity is having a serious impact on its housing market. The Financial Times reported that one in five of all properties in its historical centre is rented out to tourists. In fact it found that Florence had the highest ratio of holiday to residential rentals in Italy beating Rome  (12%) and Venice (11.8%). But that's not all. Because most of its tourists come from afar (US and China are the top two nations to travel to Italy), Florence is often part of a jam-packed itinerary as it sits slap bang in the middle of Rome and Venice. Therefore with limited time and so much to see, visitors earmark on average three nights in Florence (Statista.com).
This trend of "fast tourism" has grown legs in the last few years and holiday rentals platforms such as Airbnb, Bookings.com and HomeAway, have allowed Florence to capitalise.  As noted by Diletta Giorgolo, Head of Sales at Sotheby's International Realty for Central and Southern Italy, short-term rentals in the city are seen to be "a good steady flow of income throughout the year".  One such person who can attest to this is 29-year old Florentine Martina Ciampi.
Conscientious and reliable, Martina has found herself a lucrative niche as an independent property manager who helps landlords lease out their homes to tourists in the historical centre. In addition she assists letting agencies with check-ins- that vital first meeting with guests to show them their rental and be on hand to recommend Florence's hidden gems. She's a one-woman band with a precocious professionalism that comes with being her own boss. She's an active member of the "Women in Charge" Facebook group and has a world of contacts within Florence's vacation rental sector.
So how did she do it? After studying Photography in Florence, Martina went travelling for some years, living in places such as Sydney and London (where she was an au pair) and backpacking around India. Inspired by her experiences, she heard her calling: "Once I moved back to Florence I thought why not make a career of it?! I have passion of travel and that has given me a commitment to helping other travellers make the most of their holiday".
So began the research. She went on the hunt for short term-let holiday apartments that needed some managing: "I found apartments in the city centre owned by those who could not look after them (working full-time) or lived in other cities. I approached them to offer my services in taking care of everything a holiday appartment needs…and we agreed a percentage of the earnings".
Martina's portfolio consists of four properties, one of which is a vintage split-level apartment on the top floor of a historical palazzo right in the UNESCO World Heritage zone of Florence. Designed by two of Italy's most noted architects Cristiano Toraldo di Francia and Gian Pero Frassinelli, its interior is decked out in original 70s/80s décor complete with antique mirrors and bright turquoise walls. And to top it all off, it has stunning views from the living room where you can see directly onto the Duomo and Battistero. Its look was so iconic of its time that Italian Vogue featured it on its cover of the 1980 Interior Design Magazine.
With such high-profile properties on her books, things can get hectic. During the high season Martina turns into a multi-tasking machine, whizzing through Florence to welcome guests (she averages three check-ins a day), coordinate maintenance repairs and attend to booking requests. Come Florence's low season, she can take her foot off the accelerator and enjoy some down time, (well if you can count lying on a beach while keeping a hawk eye on your bookings calendar and correspondence that): "There's less mayhem after the second week of January and generally in mid-November, so it's time to become a traveler! Generally I travel by myself since the people around me are working this time of the year! But this does not discourage me!".
With such high-profile properties on (Martina's) books, things can get hectic. During high season, (she) turns into a multi-tasking machine, whizzing through Florence to welcome guests…coordinate maintenance repairs and attend to booking requests…
But while the demands of Florence's tourism is high, Martina does not begrudge the allure of her city one bit: "Florence is magnetic, romantic and busy…its narrow streets evoke a thousand tales, and its food and wine are so wonderful…You can return time and time again and you won't have seen it all. Stand on a bridge over the Arno river several times a day and the light, mood and view changes every time".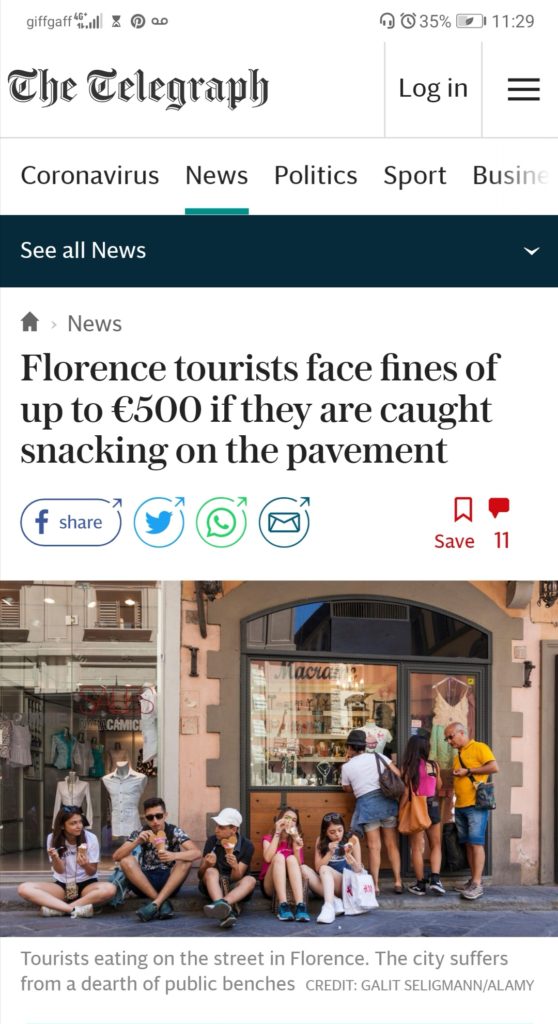 Change is certainly something Florence is undergoing and unlike Martina, some locals aren't taking to it too well. In the last couple of years, Florence has been likened to a Disney Land that is losing its Italian identity. Mass tourism is driving up the cost of living. Sunia (the Florence branch of the National Union of Tenants), previously estimated that each year around 1000 Florentines abandon the centre for  cheaper properties in the outer suburbs. Moreover the effects of short-stay visits, which typifies the normal tourist experience in Florence, have seen tourists disrespecting monuments, and filling streets with anti-social behaviour. Authorities have made moves to combat the influx. In September 2018 Florence's mayor, Dario Nardella decreed to impose fines on tourists eating in the street and congesting vital access points into the historical city centre. The year before that he ordered council workers to hose the steps of churches to deter tourists from sitting down and eating there. But it's not about being draconian with tourism. In an interview with The Florentine in 2017, Mr Nardella explained: "…it's a positive thing that Florence is visited because it's a way for humanity to share this beauty…(but we need a kind of) tourism that is more attentive to our city's beauty and ultimately more respectful".
Naturally with such challenges as this I wonder whether Martina's love for her city come into conflict with her reliance on mass tourism? She sees a more positive side to it: "Of course, tourism is economically important for the people who live in the city but mostly for the city itself. This high demand can cause cities to invest more in infrastructure, training, conservation (which is SO important in Florence), and promotion, which in turn, would result in a greater good for whole communities at large, it's a win-win situation for all." But she hastens to add, it's not just about economic growth: "Tourism…revitalizes and invigorates communities. It connects people, from stranger to friends and family. It is a platform for learning, it's a vehicle for adventure. It teaches people how to live with diversity, how to form connections with people whose culture is vastly different from your own".
Martina's Top 5 Check-in Checklist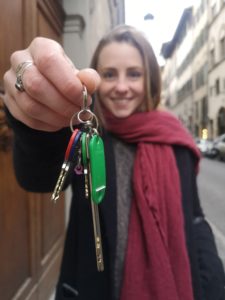 * Communication- always keep in touch with your guests especially to find out their arrival time.
*Pay attention to the detail – it's the little things that set your service apart
* Be patient and ever ready to answer ANY query no matter how trivial they are.
* Be at the property well before their arrival to prepare the house.
* Guests rely on your insider knowledge of the city so have in mind a list of your favourite restaurants, cafes and bars- a recommendation from a local is more valuable than what you get in a guide book!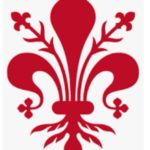 If you want to check out Martina's apartments, please click on the below links:
1) Santa Croce Studio:   2)La Casa Di Lo    3) Guidobaldo's Verandah        4)Brunelleschi Apartment- Florence with a View
____________________________________________
Walk this Way – Being a licensed historical guide in Florence
I truly feel like an ambassador of this city's immense cultural heritage. I love what I do because culture unites people!
New to Florence? Stuck for something to do? Well with all that history in one place, you'd be a complete pazzo to let it pass you by. So what better way to dive in than to enlist the services of a historical walking tour guide? There are over a thousand licensed guides in Florence to choose from but if you want to learn, impress friends back home with some cool facts AND have fun with Florence's storyteller then book a walking tour with Andrea Oliverio, a friendly social- media savvy guide with an encyclopaedic knowledge of Florentine culture.
Since earning his stripes in 2018 from the Bottega Toscana, he's been taking groups on a journey of Renaissance history and then in November 2019 he was crowned Air Bnb's Best Tour Guide in Florence with a near 5-star perfect rating (he's aiming to up that average) gained across 700 reviews in the space of 10 months!
So what does it take to be tour guide in a city so rich in history and culture? Well for one you don't have to be local nor have a million degrees in History. Andrea is from Calabria but moved to Florence to study Botany at the university.  He stuck around and landed a job in Ticket Sales at the illustrious Palazzo Medici. Struck by the building's history he grew an interest in learning more: "I've always been very curious person. When I worked at the Palazzo Medici, I started reading up  on the Medici family; I wanted to know more about where I worked".
Andrea took it further. In 2017 he enrolled at the Bottega Toscana- a vocational training school in San Gallo- to study to become a licensed tour guide. For 2000€ he learnt all there is to know about Florence, including its history, art, politics and mythology. The history modules were his favourite: "I loved studying Florence's history. It was the New York of the Middle Ages- the richest most important place for commercialism and innovation," he says most ardently. Indeed Andrea is one studious guy with a clear passion for Florence's past and a voracious reader (his favourite books are "Medici Money" by Tim Parks and Irving Stone's "The Agony and the Ecstasy"). With a meticulous attention to detail, it's quite clear what makes his guided tours winners. But there's one other noticeable quality that he has: a  pretty impressive level of English, a skill he taught himself: "Scorsese, Oasis, Pink Floyd and Credence Clearwater Revival were my English teachers, I would always watch movies in English and from there picked up the language".
But everyday English was not enough. He needed to relate Florence's heritage to the masses by learning the proper English terminology. For that he enlisted the help of Dubliner tutor Ben Hogan who taught him the correct phrases and technical language that would enrich his tour's content. But Ben didn't stop there. Seeing Andrea's obvious interest, he invited him to conduct a tour for him and three friends from Dublin. Andrea admits being terrified: "I was so scared of making a mistake. It's really not easy but it went really well!"
So pilot tour nailed Andrea decided to dive in. But he didn't take the traditional route and here's the smart bit. In February 2019 he posted an advertisement on Airbnb Experiences offering his services as a tour guide. I ask him why there and he asserts: "We are a new generation, everything is online. I want to be THE guide for the Uber generation!". His instinct paid off. Within a week his new career as a guide took off:  "I was out walking and suddenly got a notification from Airbnb. A mother and daughter from Maine had booked a tour with me! I ran home and shut myself indoors for two whole days to study every stop; to learn about it all: Cosimo Medici, Statue of David, Medusa, Perseus!" Perfectionist jitters aside, I ask him how did it go? "At the end of the tour the mother gave me 10€ tip- I guess she liked it and then the day after came her review and it was so lovely". Two days later came his second tour for a group of Londoners, and the rest as they say is history.
We are a new generation, everything is online. I want to be THE guide for the Uber generation.
As mentioned Andrea has amassed 700 reviews on Airbnb alone scoring a 4.97 out of 5 average! He conducts two types of tours, one dedicated to the Medici history, the other taking visitors through Florence's Renaissance past. He also conducts tours featured on Dutch tour website Withlocals, a partnership that began in March 2019: "I saw their website and contacted them. They invited me for a Skype interview and  like that I started doing tours for them". If you do the maths, this means Andrea is a very busy man. He conducts two to three tours a day in high season and spends free time out in the historical quarters taking photos as inspiration for his next guide. Each review motivates him to exceed his last.
It's amazing to see what Andrea has achieved in so little time thanks to his own entrepreneurial spirit. And since his crowning on Airbnb he's been even more dedicated to his craft. But being your own boss can take its toll: "I put my all in to each tour, it's like a performance which after awhile can be exhausting. Plus one of the hardest things about what I do is being constantly online. People write to me all the time that in the night I put my phone on silent to give myself some psychological recuperation." Luckily as Christmas nears, Andrea can take his foot off the pedal to take a proper break and become a traveller himself. Though make no mistake he'll be constantly ticking over with ideas for his next walking tour.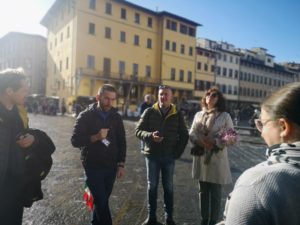 Andrea's Top Tour Tricks
* Be at the meeting point first to greet your group
* Use props to keep them interested
* Only talk about the things you see
* Make them laugh
* When children are around, get them involved in the story.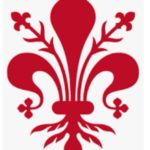 If you are interested in booking a tour with Andrea, you can visit his page on Airbnb Experiences here: "AndreastoursinFlorence". Or book an Uffizi tour with him via WithLocal