If you love all things Spanish, then you will have heard about the Feria de Abril. It is one of THE top events in Spain that embodies the quintessential beauty of Spanish culture. Nine years have passed since I was backpacking around Andalusia – my favourite region on the Iberian peninsula. I recall seeing vintage posters of the Feria depicting regally-poised horsemen flanked by guitarists and twirling flamenco dancers. Such scenes intoxicated my imagination not to mention intensified Seville's charm. As time passed and with two long years in lockdown, my desire to see the Feria got stronger. So once Covid restrictions had been lifted, I set my heart on celebrating in Seville at its absolute finest.
What is the Feria de Abril?
The Feria de Abril is one of the most internationally renowned of Spain's fiestas that takes place in the Andalusian capital of Seville, two weeks after Semana Santa (Holy Week or Easter). It was first held in 1847 as a cattle fair. Over time the festive atmosphere that grew around the occasion started to overshadow its more practical origins. Since then it has become a yearly headline event in Seville's social calendar, noted for its colourful vibrant celebratory mood (a stark contrast to the sobering reverence of Semana Santa). While the fiesta-feeling pervades the entire city, the main festivities take place in an area across the river Guadalquivir called Los Remedios.
It's not the only spring fiesta of the region. Jerez stages its own fair, but the Feria de Abril is the most famous and ostentatious with Spain's social elite in attendance. For a week more than a thousand casetas or tents installed in Los Remedios become the second home of the city's inhabitants, a place where families and close friends come together to have fun until the early hours in the morning. Horseman and carriages parade the streets, Flamenco dancers stamp to the guitar, tapas and wine overflow! Yes, everything you associate with Spanish culture is on show here!
High Lights – Where the Feria Begins
To kick off the week, there is the Alumbrado (which is Spanish for "Enlightened") an inaugural light show that takes place at midnight on the eve of the festival. Crowds gather to witness the lights of the Portada– the gateway into the festival area- being turned on to mark the official start of the Feria. I can only compare it to switching on the Christmas lights in Oxford Street except with the amped up anticipation of NYE. Virtually the whole of Seville gathers to witness it and it's a really atmospheric part of the Feria…so let me indulge you.
Generations of Sevillanos turn out in their finest. Families, big groups of friends and even gangs of teenagers are suited and booted. I wonder does this even happen in the UK?
Imagine a laid back afternoon giving way to a hubbub as locals spill out onto the evening streets. Generations of Sevillanos turn out in their finest. Families, big groups of friends and even gangs of teenagers are suited and booted. I wonder does this even happen in the UK? As the night progresses, it's still deliciously warm so I decide to walk with the sweeping crowds. Traffic across the River Guadalquivir builds. Everyone hopes to bag themselves a good spot to see the Alumbrado.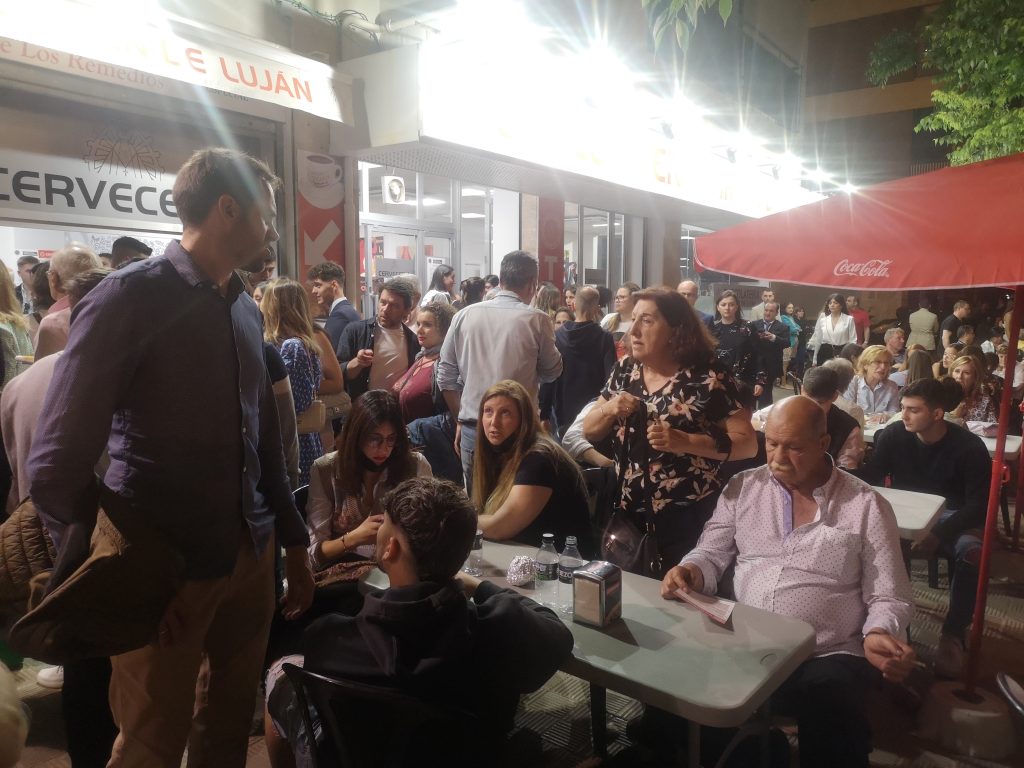 It's damn noisy; bars are bursting with people shouting over each other as they bark orders for a bocadillo chased down with a cerevza or more traditionally a rebujito (white wine and 7Up). You will need these for the wait to feel less of a drag. Midnight strikes and the lights are turned on to a roaring applause before the crowd intensifies around the entrance. It is packed, and elbowing your way through is not for the faint hearted nor those with a fear of crowded spaces. I didn't get much of a look in, but managed to crane my neck to see vibrant flourishes of Flamenco spectacles. The party has just begun but for me I call time as the next day I'm keen to see the Feria in full sway!
The Day after the Alumbrado Before
Midnight festivities fade out to a sunny Sunday morning. It is blissfully quiet – people are sleeping off last night's booze and celebrations. As midday approaches, you can feel a change. The roads start thrumming under the hooves of horses trotting along, little bells hanging off their bridles ring in step with their gait. I'm at the bus stop on Calle de Recaredo with families around me waiting to get a ride to the Feria. Grandmothers, mothers and daughters swathed in vibrant layers of polka-dotted frills, fathers and sons dressed in the tight fitted trousers, short jacket and hat so reminiscent of the paesano.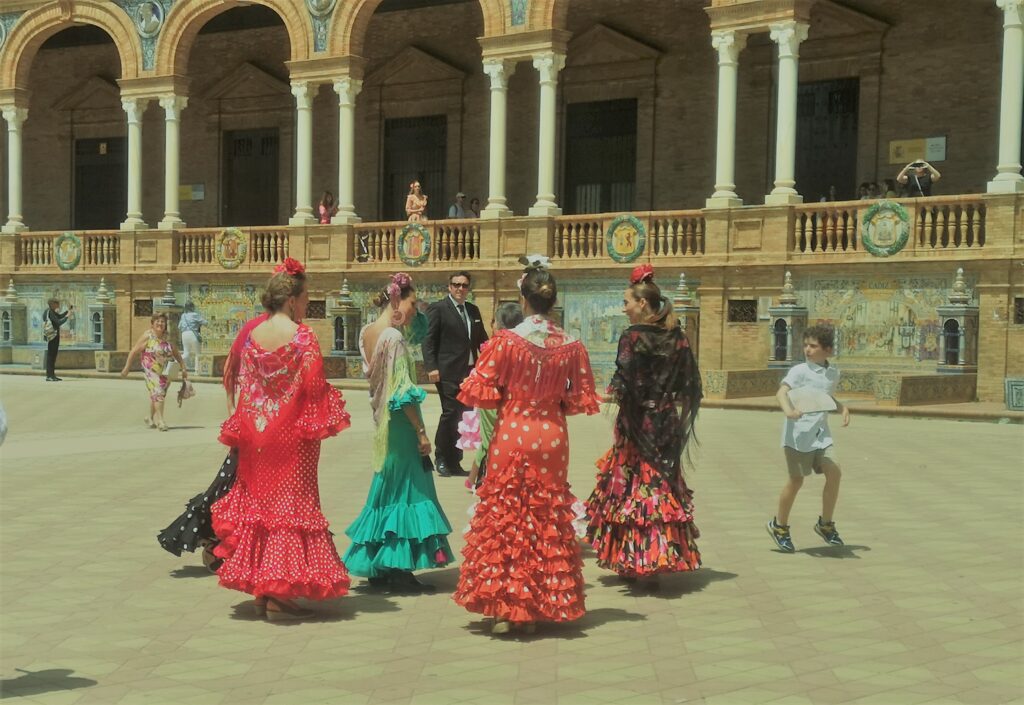 As mentioned while the feria is concentrated in Los Remedios, the whole city is infused with the feria. While wandering around the romantic Plaza de España, I fixate on the dark brooding complexion of the locals, all the more striking in their visions of colourful costume. Fluttery trills of Spanish guitar accompanied by periodic stamps emanate from under the shady porticoes as Flamenco shows spring up everywhere. It's the passion for patriotism that looks so smart, so proud and… together. Seeing so many generations of a family as one made me wish we had occasions such as this back home.
Together but Alone…
While this solidarity of spirit is great it does have its downside. As a tourist you are very much made to feel excluded. You can expect to be ignored a lot. I had read about the growing sentiment among locals that begrudge visitors from abroad. For them the Feria is an emblem of Spanish pride, not a funfair to photograph.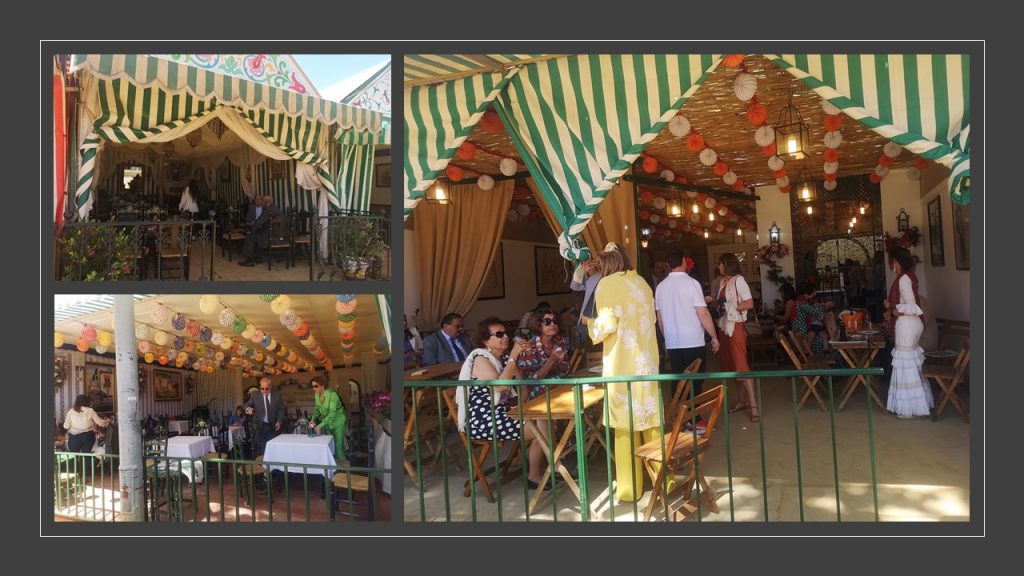 It's pretty evident when you walk around the quadrant. Upon trying to take snap some elegant horsemen, they swiftly turned their steeds around. Also only a handful of tents are open to the public as only notable families native to Seville have access to the beautifully decked out casetas adorned in paintings, lanterns, colourful fabrics, tables and chairs. Passing by such elegant structures to then enter a tent that is more sparse and basic is quite a let down and the sense of exclusivity gives the feria a haughty feel. But for a first timer, you need to make the best of it. So I grab a drink and then stand outside to behold the endless parading of carriages and horsemen. Yes this is Spanish showmanship at its best.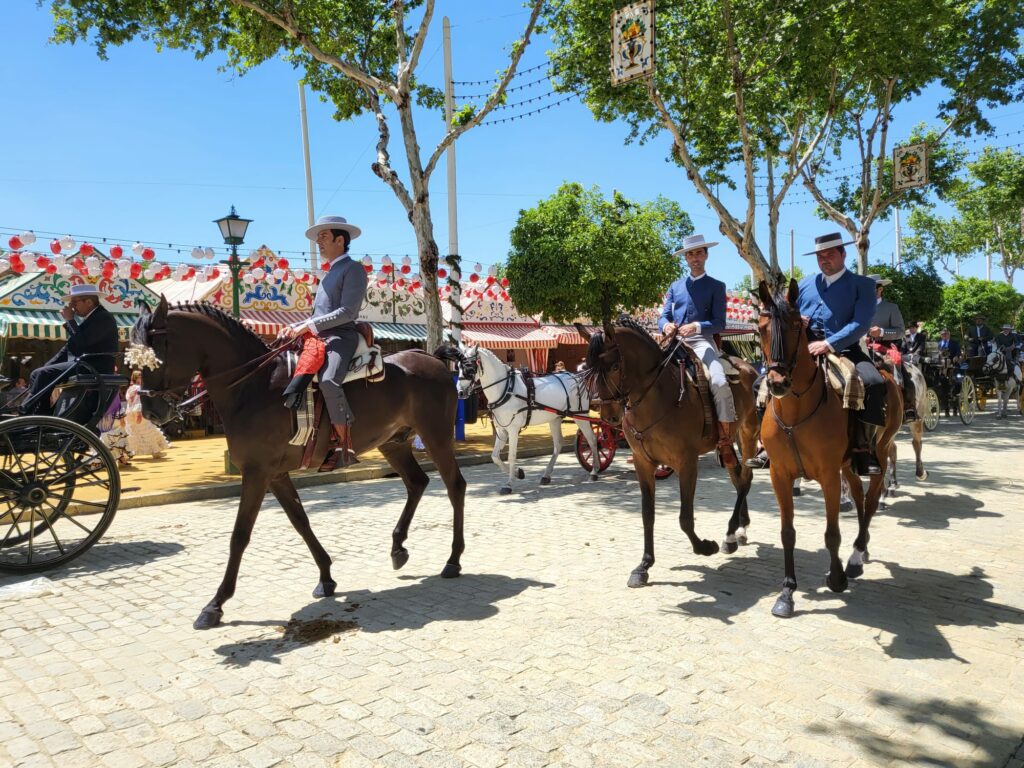 Due to the exclusivity of the event there is, in my opinion, little else to do as tourist. After awhile the walking around and gawping at gorgeously-attired people loses its appeal. In contrast to the Alumbrado which felt more convivial, the actual feria can only be marvelled as an outsider looking in. You're best off returning to the city centre and enjoying the vibe from there. For this reason I'd advise you not devote your entire stay to the Feria.
After three days of soaking up the party atmosphere in Seville, I took a train 45 minutes out to the little town of Jerez de la Frontera, home to world-famous Tio Pepe sherry and the Andalusian equestrian school. In fact their own feria was to take place a week later and I found out that while 90% of Seville's casetas are private, in Jerez 90% are open to the public! If I had my time again I would probably position a trip around the time of their feria because then I'd get a more authentic feel of it.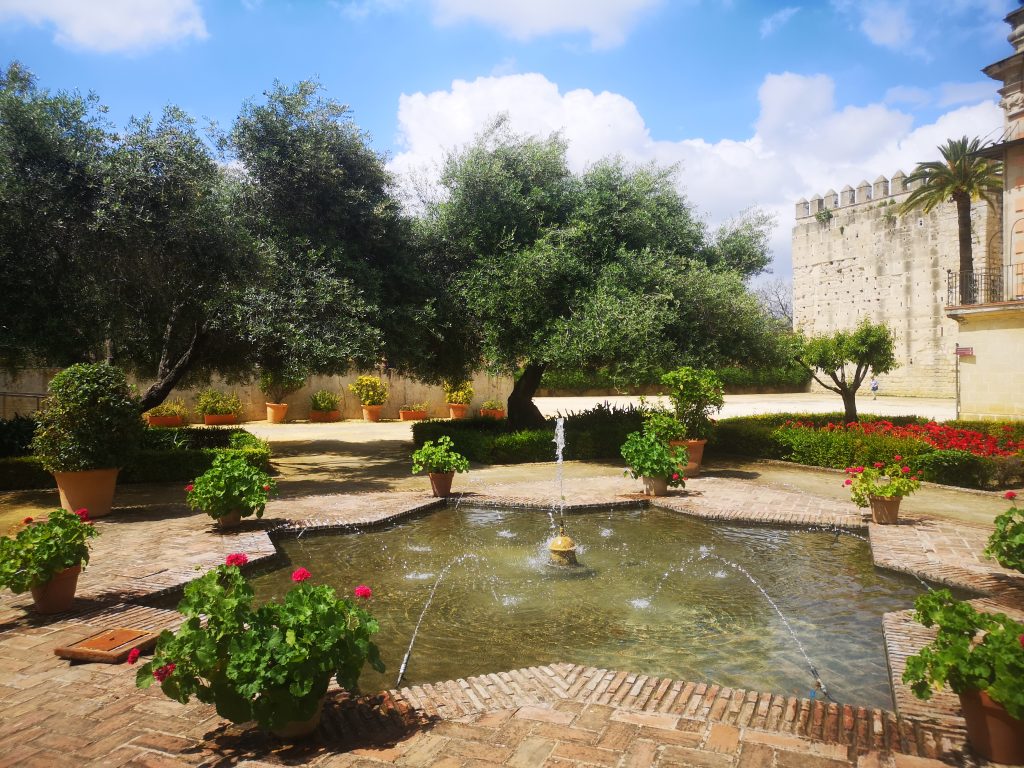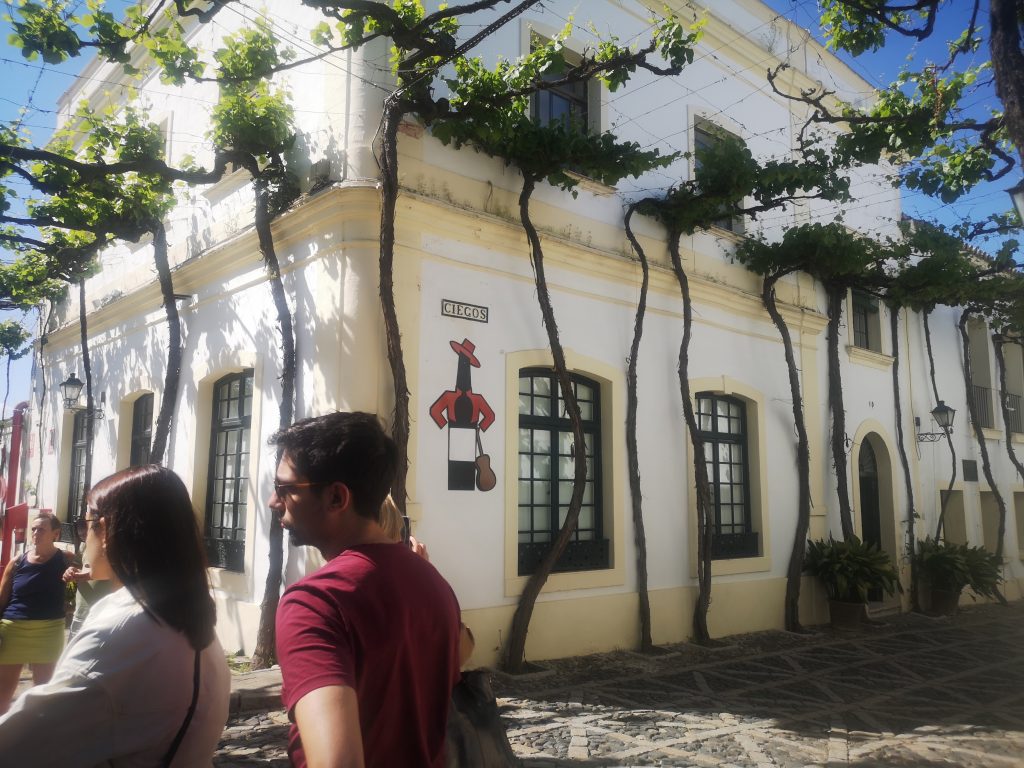 So why the disproportionate amount of attention on the Andalusian capital? Well as I mentioned it's a stunner of a city and a focal point of Spanish culture, identity and history. Yes it may not be as international as Madrid nor edgy as Barcelona but it's sheer soul and solemnity make you understand Spanish pride. If you expect its feria to equal the carefree vibe of La Tomatina or the reckless bravado of San Fermin- forget it. The Feria de Abril it is not so much a hedonistic knees-up but rather a proud display of Spanish culture that only tourists can savour on the sidelines. But that doesn't mean the region has forgotten to enjoy themselves, for that perhaps Jerez or Malaga's ferias will suit- but if you want to witness time-honoured tradition then Seville serves up a feria in style.