P ics by Gretchen Oris-Chong @Eightcorners
How far would you travel for a good curly-hair cut? Answer: 17000 km. That is the distance I covered from London to Melbourne where Australia's king of curls, Neel Morley, is sovereign. Since a chance meeting in 2013, I have followed him religiously on social media, not only because he rules over curl cuts but because he truly loves them! The Aussie press can't get enough of him either; some want to big up his reputation as a curly-hair stylist, others focus on his entrepreneurial talent and then there are those who are hyped up about his quirky fashion sense when he turns up at the Melbourne Cup. So upon going Down Under, I had to book myself in for a signature cut at his funky salon, aptly named, Neels Loves Curls and grab a word with the mane monarch himself.
---
Fitzroy: aka the coolest suburb in Melbourne. I'm trailing its arterial throughfare, Brunswick Street, eyeballing quirky boutiques, hipster cafes and thrift stores. Then at some point I catch an exterior decked out in crazy toons framed by messages such as "Curly Hair only" and "Blow Wave Free Zone". To any passerby it fits right in with the zany feel to the district. But for me I know I have found it. It's a little salon, merely one floor, oblong in shape, but don't be fooled; Neel Loves Curls (NLC) may be small in stature- it's only been the scene for 4 years (two in its current location) – but in its short lifespan has amassed a burgeoning fan base to crown it THE place of pilgrimage for curlies in the Southern hemisphere (and beyond). Here frizzy girls and boys convene; some in search of advice, others in dire need of a curl cure, but all devoted supplicants to, as the media have nicknamed him "the high priest of kinks and loops".
I walk in to stand on a chequered floor. Red-velvet sofas are studded against the left-hand wall. Opposite are three styling stations swathed in colourful fabrics that burst with razzmatazz. I spy dolls perching on tables, chopsticks bundled in jars, speech bubbles stenciled on the walls with feisty phrases proclaiming curl pride. It's kitsch, it's cabaret, it's got Rupaul swagger and then when it can't get any more fantastical, in comes the king himself, decked out in finery that is just as flamboyant. Despite the greyness outside, Neel looks like he's stepped off the Club Tropicana music video. Picture a bright sweater covered in tropical pineapples paired with luminescent yellow trousers and topped with a baseball cap, swivelled backwards just cos he's a baller! I'm not that phased; I've seen him in more outrageous outfits on Instagram. He grabs a quick brekkie and takes a seat next to me. His client is due soon so we best make a start.
Despite the greyness outside, Neel looks like he's stepped off the Club Tropicana music video. Picture a bright sweater covered in tropical pineapples paired with luminescent yellow trousers and topped with a baseball cap, swivelled backwards just cos he's a baller!
Neel on honing his curl craft
"Hairdressers who can't cut curls…. are like doctors or nurses…who can't do injections".
So here's the lowdown. Brit-born Neel Morley is the brains, brawn and brand behind NLC. He's been in the hair business for 19 years, loves Beyoncé, "colourful nonsense" (as if the salon wasn't a giveaway) and championing natural beauty. He's a part of the Curly Hair Artistry group, a international network of stylists who train and promote excellence in curl upkeep, and is an alumni of the DevaCurl Academy– the Oxbridge of curl education. At present he heads up a team of 4 stylists – one a trainee- all fanatical about the art of curls. When he's not attending to his clients, he leads classes educating parents and children about curls, a dedication, he tells me based on the fact that it's, "easier to make a 8 year old girl like the way she looks than a 14 year old girl whose friends say that she looks better with straight hair". His ambitions are to set up a training academy, the first of its kind, in Australia, in a bid to spread the message of cutting edge curl care.
The obvious question on my mind is that how come a guy who doesn't have a single curl on his own head get so passionate above kinks and coils. The answer, he calls it, is "a happy accident". In 2004 he left his job at Brighton's Cuttlefish salon to seek adventure in Australia. In Sydney he found a natural affinity for styling curls: "I liked the clients with curls more…and think that they are more fun…I don't get bored of cutting curly hair as no two curly clients are the same". Then after attending a chance seminar, he learned to hone is craft leaving behind the finger-twirling technique (every curly girl's short cut trick): "I started cutting curly hair dry and suddenly I started to get myself a curly hair following through word of mouth". Fast forward to 2010 and he was well on his way to establishing himself as a curl connoisseur. Now in Melbourne working in a salon, he witnessed first hand how little his fellow hairdressers knew about cutting curls: "I saw stylists blow-drying curls straight to check the haircut- worst idea ever!". He then moved to Cherry Bomb in 2011 intent on righting such wrongs: "It was then that I thought I never wanted to torture someone's amazing curls again." Sure enough the following year Neel's popularity in the curl-styling world was so big that he stopped cutting straight hair altogether, thus allowing him to dedicate his energy to a growing curly-haired client base.
All the while Neel kept a blog showcasing his curly hair styles and documenting the wave of textured tresses. It soon caught the eye of the Curl Hair Artistry Group: "They messaged me and recommended I fly to America to do some more training." In 2013 he did just that, taking up a spot at the Devacurl Academy in New York. His talent didn't go unnoticed and there were questions as to whether he would stay and join the Devacurl team. But the entrepreneur in Neel just wasn't convinced. His instinct was to dance to his own tune so flew back to Australia to embark on a mission to lead the way.
Neel on Starting a Start-Up
"People with curly hair are genuinely happy to be in a salon only made for them and that people without curls can't come in…every product is aimed at paying dues to curls"
It's now 2014 and Neels, armed with the stellar styling skills needed, is a one-man band working crazy overtime to make the money that would fund his flagship salon. In between cutting hair, he spent what little free time he had to renovate the salon space, at that time a derelict space above a shop in Fitzroy. People questioned why he wanted to dedicate his craft to just curls, but Neel's experience told him that this was the perfect USP. But there was more to his vision than just giving a good curly haircut; he wanted the space to be at once welcome and comfortable: "A lot of salons focus on a cool look that isn't very welcoming which is a shame…a lot of curly hair people stop going or just resent getting their hair cut". He's hit the nail on the head which is why NLC is so important. Yes it's crazy, the bathroom looks like an actual jungle, the styling space has more theatre in it than a camp Broadway musical but it's got a lot of heart and humour. It doesn't take itself too seriously… but on the other hand it totally does. Look beyond the crazy toons and decor, it has all the products kitted out for curls; the aforementioned chopsticks (a nifty little trick for root lift), invisibobbles, spray bottles, and the revered styling lines from Jessicurl and Innersense, (the latter being my current go-to curl care range since my NLC visit!). Forget the generic beauty mags for reading material, Neel stocks the Bibles of curl care such as Lorraine Massey's "The Curly Girl Method" and Founder of NaturallyCurly.com Michelle Breyer's "The Curly Revolution". So while the appearance is a lot to take in, it's spot on with its USP and any curly would feel like this is a space that was designed just for them.
Neel on Smashing the Social Media scene.
"It does help to be a show off when running a salon…"
Let's not make any bones about it, Neel has a huge personality – it's how he and I met! So it's not a huge surprise that the media noticed him. After appearing in Frankie Magazine (one of the coolest magazines in Australia) NLC's popularity jumped another level: "We went from being 6 weeks fully booked two 4 months…." That was when his former colleague Christine, came to work so that he could meet the overwhelming demand. As mentioned he's now 4 stylists strong, some of whom are former colleagues from other salons in Australia. But in today's digital age, the measure of a business' success is their social media status and NLC reigns supreme! Name a virtual space and Neel is all over it; Pinterest, Instagram , Facebook and Twitter to his own blog that is constantly running with curl education tips and top products on the scene: "I am pretty good on social media (he spends 20 hours a week) and like to make it more joyful and fun". At present his partner Tom is in charge of maintaining NLC's blog and online profile bar Instagram- that is Neel's territory! Tom takes posts off Instagram that has gotten more than 150 likes and puts them on Pinterest.
…In today's digital age, an added measure of a business' success is their social media status and NLC reigns supreme! Name a virtual space and Neel is all over it; Pinterest, Instagram , Facebook and Twitter to his own blog that is constantly running with curl education tips and top products on the scene…
Understandably the posts that outranked the rest were those of striking curl re-styles (if you're like me that'd be the litmus test to any curl stylist worth his salt). However those of older ages got a positive reaction from his online audiences as well: "Those with shorter hair got triple the amount of likes than someone with long dark hair that is 23 years old". And that is what makes Neel's posts stand out. Forget the nymph-like, models contoured to an inch of their life, Neel profiles the ordinary Joes from all walks of life and cultures. He asserts: "I think it really important to show people of all looks". And it's not just the hair cuts he posts but people who catch his creative eye. "I stop people on trams, festivals and every event in Melbourne like White Night. My boyfriend would get annoyed at me he said You keep pissing off and leaving me alone to talk to curly-haired people…I just reply saying I can't help it, I have business…and now people stop me and say You're the curly hair man' and I'm like yes thank you!" I guess that's my question answered: after all what's the next best thing to not having curls yourself? Being the master behind them!
---
The Big Chop
Chat over I move on to my hair appointment, rather excitedly I should add. I've never had a dry cut, despite the fact that every resource I've used has referred to it (or its formal name The Devacut) as the only way to attain perfect curls. But here the number one rule of a cut at NLC is that you arrive with newly-washed (and dried) hair, wearing it down (you can have some product in it). This is so the stylist can work with the curl's natural pattern, length and texture. NLC prices cuts according to how much hair you have. Mine is medium long so for AUD $137 (about £77) which isn't too far from what I pay my UK stylist. Given Neel is booked up months in advance I have Jo Gray, one of Neel's trusted curl connoisseurs. A warm smile frames a cheery Scottish accent as she welcomes me to the chair for a brief chat. Thus starts my haircut at Neel Loves Curls…
First Some Curl Talk:
I sit on my glittery styling throne and instantly Jo is scanning my curls. All the while we are talking about my routine; products I use, techniques I have tried. I'm no novice and reel off all kinds of words in the curly hair lexicon "deep conditioning", "finger-combing", "scrunching", "co-washing" etc. She nods while running her fingers through the strands checking its condition. So far she seems happy. I mention how much I am tempted to colour my hair and she instantly shakes her head- why deprive your hair of moisture even more?! With my coloured curl ambition in check, I explain that my hair looks drab and needs some oompf! The layers at the back have sucked out my hair's bounce while and at the front they have outgrown my facial shape. I want a fresher more springy style that will outlast 6-months' worth of growth. In short: Effective layering for added volume.
Dressing for the occasion:
Mission accepted, she spins me around to face a vibrant array of cloaks hanging on pegs fashioned out of wooden animals. "Choose", she says. I instantly smile and, call it trivial, but I love the idea that I can select my own gown. I scan through all the glitzy numbers as if I'm about to go on a big night out. I opt for a piece fashioned by Gun Shy -a Melburnian designer that specialises in luxury bespoke pieces. It's a sequinned cloak covered in geometric prints and vibrant colours. Once on I feel glamorous and super excited though I have not shed a curl yet!
Cutting It
Snazzy cloak selected and on, my seat and I 180 back to the mirror. Jo has her tools in place and begins cutting. It really is fascinating to watch her. We talk about curls but all the while I can see her honing in on the errant ringlets that throw the image out of whack. Luckily with a dry cut you can see these quite easily. Like a sculptor agonisingly chipping away at a block of marble bit by bit, she shapes the back layers to give lift while reviving the frontal curls' bounce. I catch a look at the locks on the floor; doesn't look like a dramatic lop, but as I am soon to find out the proof in the cut is in the styling of it. On to the next step.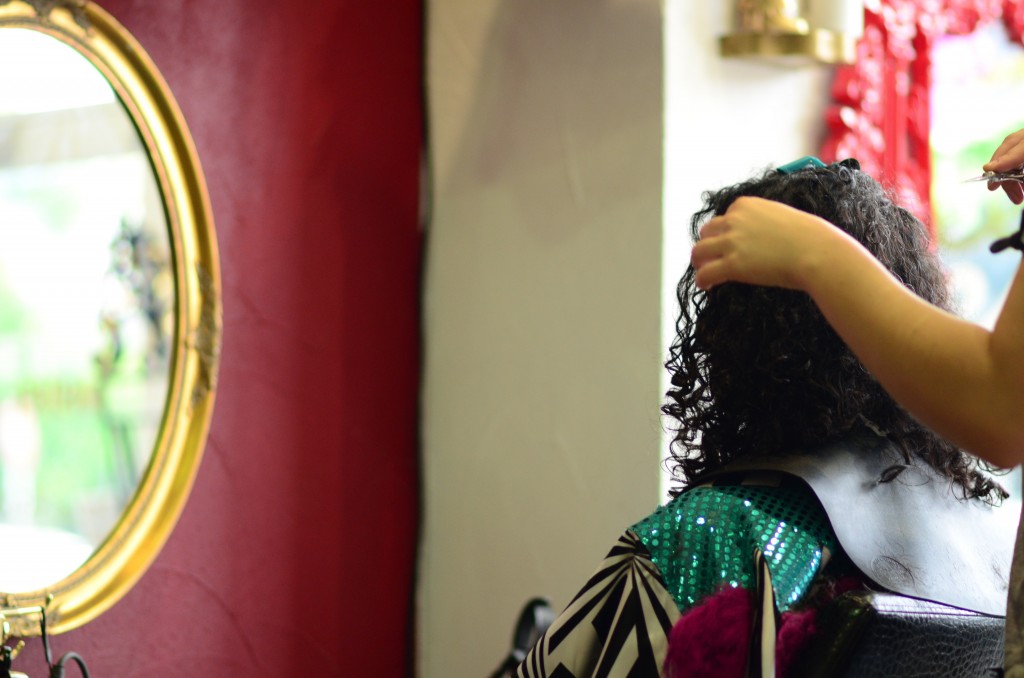 Wash 'n Curl:
Time to re-wash those curls and see how the cut has affected their bounce. Neel is a strong advocate for US brand Innersense Organic. Calling it the "Game changer" of curls- he stocks the hydration shampoo and conditioner and volumiser serum on his shelves. Jo shows me the conditioner. It's thick, smells lovely and has the consistency of body cream. But as Jo demonstrates this is what makes the product so good at hydrating. You don't need much, just a few pumps and as you apply it, you feel like you have loads enough to hydrate each curl. It instantly feels nice in my hair and I notice how soft the curls feel.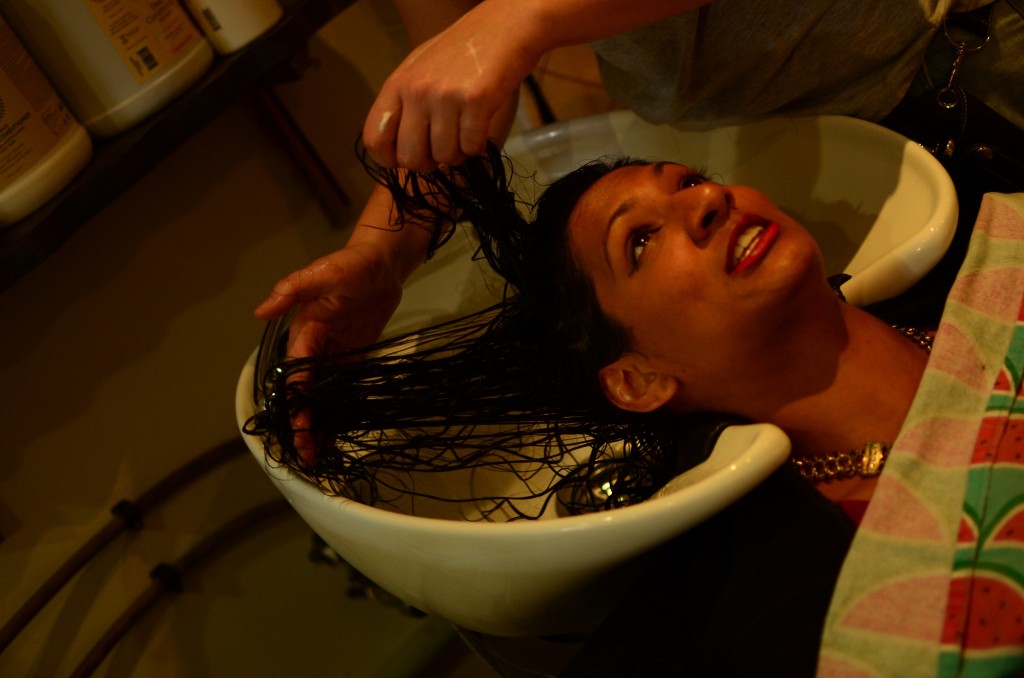 Next bit's a hair-raiser!
I'm back at my chair with some Innersense volumising gel in my hair. Now here's the cool bit: If you're like me and just can't get that coveted volume, try Curl Kabobbing, a nifty trick masterminded by US curl stylist Brienne McCoy Prince and championed by NLC. Curl Kabobbing is when you slide in long clips or interlock chop sticks at the roots of your hair (see photo). This helps to raise the base of your curls. Just add some gentle heat to lock in the lift. While I wait, Jo hands me "The Curly Girl Method" to keep my curl education ticking.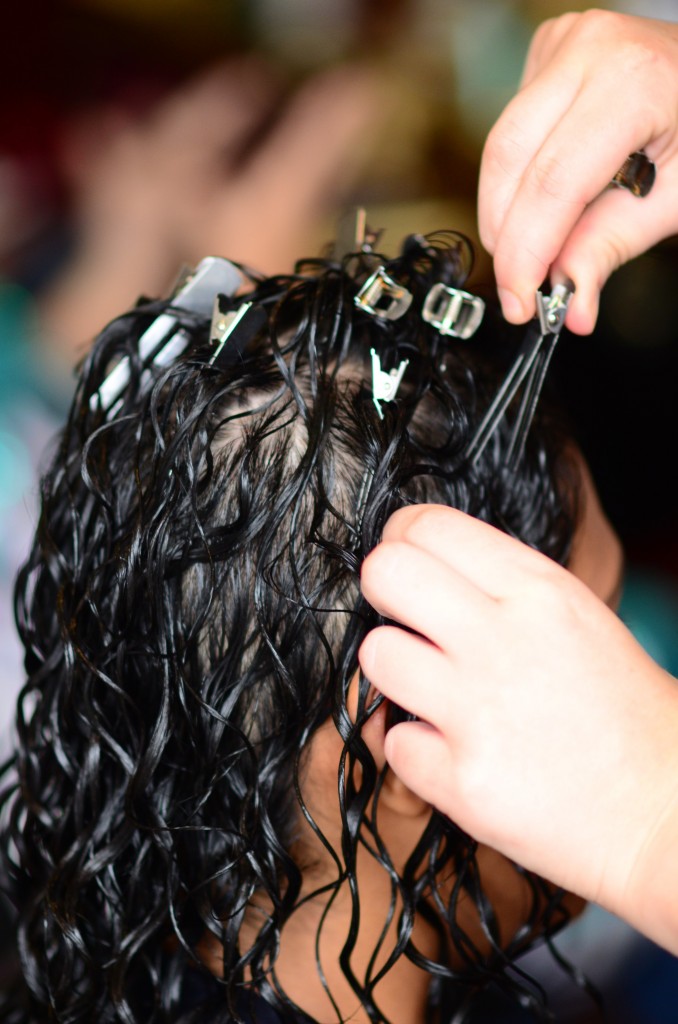 Finishing Touches:
I emerge out of the dryer and can see that the curls are quite tight- "yikes is the length is too short?" I think but Jo soon starts fluffing up the layers with her fingers, encouraging me to shake my hair out. The length is definitely short but the effect is mega bouncy curls! My hair feels light, shiny, and healthy. You can smell the Innersense but as I touch a few tendrils, I don't feel like they've been overly laden with product. Happy to say she kept to the brief and my friends can see a noticeable difference.
Final Verdict:
Did I like my cut? Sure, so thumbs up! But really NLC's rating with me is more about the entire experience. I didn't feel like a passive dummy being lead from station to station. Instead each point of my cut was an immersive experience into learning how to nurture my natural hair. Neel and Jo are fantastic mentors and will answer any curl conundrum you have. It's a shame we can't bring Neels back to Britain but given that Australia is still in its infancy of catering to curls I think it better he remains to right that. Like I said this salon is small but with a big personality and with Neel steering them forward, I can see it only going from strength to strength. You can tell he's in his element here and as he tells me at the end of our chat: "It's pretty amazing to have a job where you can make someone think that their hair is awesome when most of their life they have struggled with it". Seriously curly kellas: Neel.LOVES.Curls!
---
Neel Loves Curls:
399 B Brunswick Street, Fitzroy VIC 3065, Australia
For more information on Neel Loves Curls or to book an appointment, click here:
Check out his Instagram here