Every Easter I earmark a trip to Florence, in fact I have been there 7 times. Friends ask why I give up a chunk of my annual leave to the same place year in year out. Why?? OK I admit it; I'm obsessed. But it's criminal to shrink this wonderful city down to the obvious highlights. Without playing down the rich Renaissance art, food, and history, there's so much more to unpack that has niente to do with following the tourist trail. Each time I come to Florence I go off piste and it's showed me a vibrant way of life, an envious way of living. But after a day or two, I want to explore and what you may not realise is that being in Florence puts you in an ideal place to spend what little time you have to open out and experience Italy as a whole.
In and around Tuscany
Let's start at the closest point of interest. Florence is the perfect base to start your journey into Tuscany. Rent a car or make use of the well-serviced Firenze Santa Maria Novella station (SMN) to enjoy the sights of Lucca (birthplace of Puccini), Siena (a quirky town bursting in Baroque art and home to the exhilarating annual summer Palio), San Gimignano (a sleepier village whose skyline is studded with Medieval watch towers) and Pisa (obvious). It may a look a bit samey but each town has its little touch of Tuscan charm that makes the region a true bastion of Italian culture.
…And the rest of Italy that is knocking at your door:
Once you've digested Tuscany (quite literally) you still have some wonderful places on your doorstep. Don't take my word for it. Check out just how many places Florence rubs shoulders with: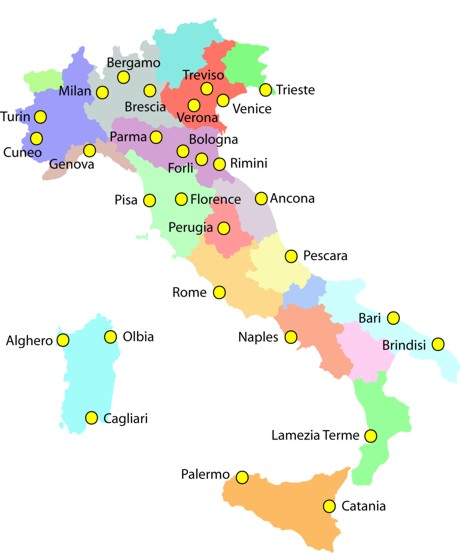 Tuscany/Florence borders 5 unique provinces in all directions: Emilia Romagna (the epicentre of Italian haute cuisine, super cars and academia); Liguria (home to the hiker's fantasy trek, Cinque Terre National Park); Lazio (art and history a-plenty in the Eternal City of Rome); Umbria (it's the only region that borders neither the sea nor another country so for a die-hard Italiano-phile, you can't get more purist than this) and Marche (A lesser-known region marked by white cliffs, remote beaches and sprawling hills).
The latter two I have set for next year but it really is effortless to cross the various frontiers. For example a fleeting 30-minute train ride from Florence took me to Bologna in Emilia Romagna to sample the beautiful food, architecture and history. It has a really young vibe due to the plethora of students hanging out at cool bars after a "hard" day's work at the famous university. A day was more than enough to enjoy the sights and with its endless line of cooling porticoes you can take refuge from the afternoon sun, perhaps taking a espresso at a quaint cafe.
Similarly, though perhaps a little over ambitiously, you can brave a day trip to the North-western region of Liguria to explore the Cinque Terre National Park – a UNESCO World Heritage site since 1997 that comprises of 5 hilly coastal towns separated by rugged cliffs. If you love photography, you will be spoiled for choice in fact your camera won't have to work too hard in capturing all the colours of a sunrise in Amalfi. I could barely rest my eyes in between such beautiful vistas.
If you love photography, you will be spoiled for choice (in Cinque Terre) in fact your camera won't have to work too hard in capturing all the colours of a sunrise in Amalfi. I could barely rest my eyes in between such beautiful vistas.
To make this a successful day trip, you will have to start REALLY early. I got up at stupid o'clock (4am) to take a two-and- half -hour train ride to La Spezia (via Pisa Centrale). Then once I elbowed my way through the tourist-thick queues and bought my entry ticket, I took a 10-min ride to the furthest of the 5 villages, Monterosso. As the day wore on I grew more weary of the deluge of excursion groups, but nonetheless I managed to find the energy to climb further and further up because the views were spectacular: a stunning coastline brushed over with vineyards on one side, glistening sea on the other. I got back (i.e.limped) into Florence at around 11pm and was completely destroyed. Perhaps a day's trip was pushing it but it can be done! If I had more time, money and patience I would have savoured Cinque Terre more, but even so it was a day like no other. I still pour over the photos, recalling those clear waters, peaceful promontories and idyllic snapshots of local life; little boys playing football outside a centuries-old church; fishermen bringing home the day's catch; old ladies gossiping on the balconies.
A little word about Rome. Yes I have been to and from Rome in a day thanks to a very comfortable high-speed train from SMN to Roma Centrale. A great day to go would be mid-week as the tourism is a little less, so you won't have to queue long thus saving on that precious time. The metro system is very reliable but if time and money allows set aside a long weekend for Rome because while beautiful it's big and covering the distance in a day may ruin your enjoyment which would be a scandal. And if I were you, don't fret too much about the Colosseum. It's impressive but the Spanish Steps, Trevi Fountain and Vatican City are a lot more imposing and free!
Finally, if you want to go to that extra mile…
Aside from the 5 nearest regions, Florence's train station can also put you in touch with Venice, Milan and even Germany via Switzerland too! OK not all of these are day-trip-able but depending on how determined you are (and skint thus preventing you from scoring multiple accommodations), you could do it -Germany excluded but the train ride through the Alps is really something else.
---
No doubt I'll be in Florence this time next year, with an itinerary packed with trips into Umbria and Marche. I am at the point where I can blend in wherever (taking Italian classes in Florence is the one bit of education I neither regret nor squander). Am I bored? Not one bit; in fact my love for its people, food, joie de vivre and art has intensified. I now know the Firenze that is beyond Brunelleschi's cupola, beyond the throngs choking the Ponte Vecchio thoroughfare, beyond the reverence of the Uffizi. And thanks to its proximity, I am getting to know Italy pretty well too!