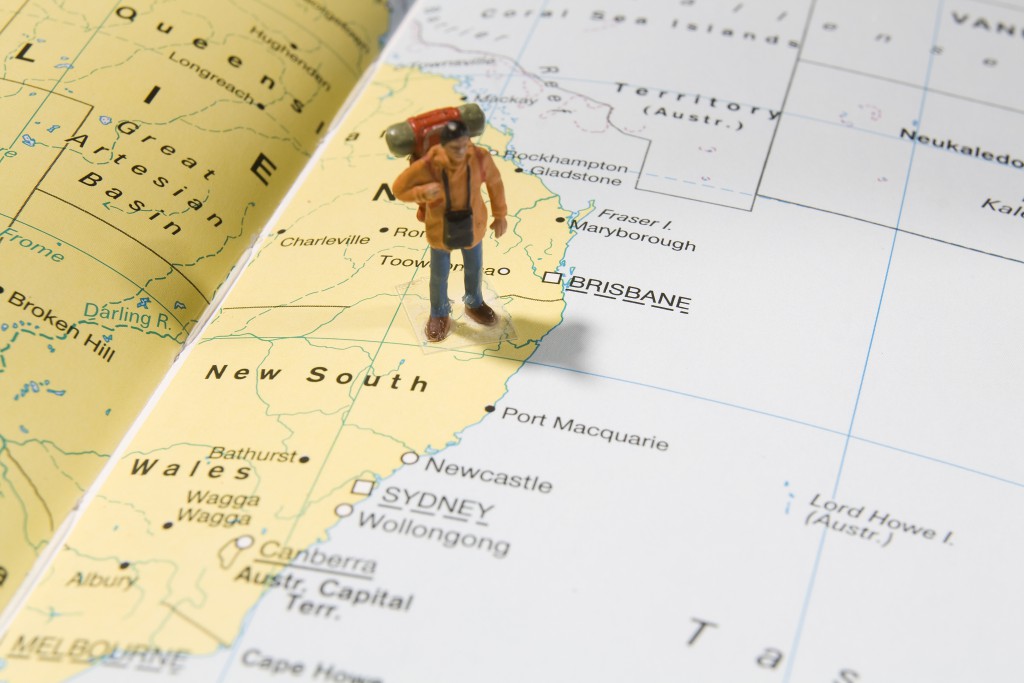 Welcome to Part 2 of my Working Holiday survival guide. Hopefully Part 1 did not put you off – it's really not that bad – so here comes the really fun bit. Where to go and some travel tips. This is what really puts Australian living on the map, so listen up!
Finding your host city
It's important to choose the right base for your working holiday. Each Australian city suits a different personality due to weather, vibe and the general temperament of its people. Below is my synopsis of Australia's top state capitals. See what takes your fancy:
Melbourne, Victoria (VIC)
Snapshot: Melbourne, the most hip and happening of Australia's state capitals. It's like someone took out a city in Europe and plonked it on the South-Eastern coast of Australia. Melbourne is the continent's second largest metropolis and has repeatedly bagged top prize for being the best city to live in the world. Not surprising seeing as it is bursting with art, food, culture and sport. You can cram lots into a day in Melbourne; a cool exhibition in the National Gallery of Victoria, followed by lunch in one of the many alleys in the CBD. Do not be fooled; unassuming as these little niches appear, they are full of cute little diners, restaurants and bistros. A tram ride to Fitzroy will get you into the city's trendiest zone brimming with independent boutiques and bohemian cafés. Finally if you fancy some exercise go to Albert Park and enjoy a swim at the Melbourne Sports and Aquatic Centre (MSAC) – a top quality sports facility with a 50m swimming pool! Melbourne also hosts world sporting events: The Australian Open (Rod Laver), Australian F1 GP (Abert Park), Cricket (Melbourne Cricket Ground) and the Melbourne Cup -like Royal Ascot (Flemington).Weather is a mixed bag: general rule is that winters are cold and summers blisteringly HOT. Temperatures fluctuate on a daily basis so be prepared! As for the regular Melburnian, they are a sophisticated edgy bunch who enjoy city life and being active. They can come across a bit snooty, but basically friendly and more culturally aware. Transport is probably the best of all the capitals. With a solid tram system and metro network that links you to all suburbs, you won't find getting around too difficult.

CHECK OUT: Fitzroy has some of the most quirky places in Melbourne such as tapas bar Naked for Satan and the Rose Street Artist Market. Hosier Lane and Chapel Street are famous for its graffitti art and National Gallery of Victoria and the Melbourne Arts Centre will  have all culture vultures busy for hours. For the adventurous, take a scenic drive along Ocean Road or a journey to Philip Island.
Sydney New South Wales (NSW)
Snapshot: Where Melbourne is the continent's cultural hub, Sydney is its commercial epicentre. This city is more American in feel; the CBD is dominated by banks and tall buildings, interrupted intermittently by cool bars for the suited and booted. It's a popular place to station yourself however I felt that it's got London's rush-rush feel to it. Sydney-siders are city dweller types. They work hard in the CBD, kick back with a beer in one of its bars on Darling Harbour or by the Rocks and then catch the morning surf on Bondi beach. Melbourne is their number 1 rival and come AFL, the state lines are severely drawn – all healthy competition of course! The climate is a mixture of torrential downpours and fiercely hot summers. Finally, transport links are pretty poor given Sydney's status. You need a car if living out in the suburbs as buses and trains are infrequent and there tend to be line closures/strikes.

 CHECK OUT: By far Sydney's best feature is the harbour and Opera House.  It.Is.Stunning. By night the bay is lit up and seeing the waves roll towards the harbour, it makes for an awe-inspiring world view. Def do an architectural tour of the Opera House and try and see in New Year there – it's a fun atmosphere, and being summer you can't help but want to party all day!
Snapshot: Too many people have sold this city short. It's actually one of my favourite. Unlike Melbourne and Sydney, Brisbane still retains its very Australian temperament.  It's not as fancy nor vibrant but it's gaining a momentum; bars are popping up by the day and with such beautiful sunshine, outdoor brunching is a popular event. The most upmarket part of the city is Fortitude Valley which is 15 mins walk from the centre. Brisbaners really take life in their stride. They love the outdoors which is fortunate seeing as they are closest to some of Australia's natural beauties: The Great Barrier Reef (Cairns), remote beaches (Cape Tribulation, Sunshine Coast) and exotic islands (Whitsundays, Fraser Island). You can bet they'll grab a surf board and take a weekend away island hopping. Why? because of the bright warm summers and tropical green-ness. Chilly nights are a feature of the colder seasons but definitely more pleasant than the south-eastern cities. Getting about is not too bad; if you live beyond the CBD, you need a car, otherwise Brisbane has a decent metro system and you can take a boat on the river to get into the city centre.

 CHECK OUT: The Museum of Modern Art (MOMA) in Queensland is quite  beautiful with a lovely outdoor eating area. The Botanical Gardens are worth a look as well as the South Bank- I am sure it reminds you of some other city.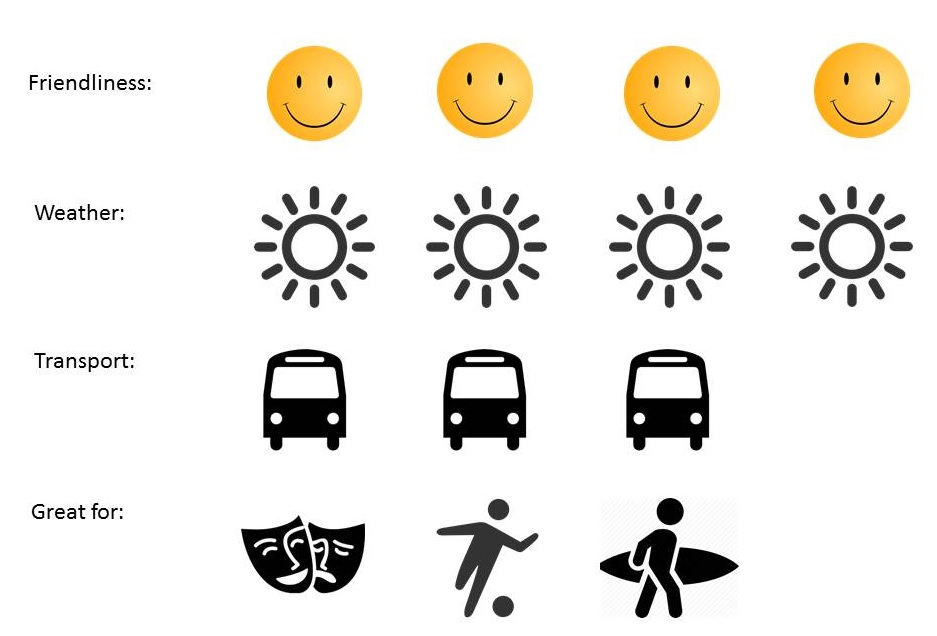 Perth, Western Australia (WA)
Snapshot: Perth. The most isolated city in the world that also happens to be Australia's breadbasket. WA is rich in vital mineral resources, the cornerstone of Australia's world export. Yet to me it's also where the real Australian landscape unfolds. As its capital, Perth is not for the habitual urbanite. It's a quiet city, with everything grounding to a halt come 7pm – Sunday trading isn't the norm. However it has some quirky quarters not to mention Kings Park, a beautiful stretch of greenery elevated above the inner city plains.  Outside of central Perth you will find gorgeous beaches in Cottlesloe, Fremantle and Mandurah. The sparkling ocean is enough to tempt you to take a dip but keep an eye on shark helicopters as it's not only humans who like a good surf! WA-ers are very friendly, welcoming and neighbourly. They will always go out of their way to help you. I loved their even more laid back attitude no doubt due to the healthy dose of Vitamin D in their weather. Yes, this city basks in sun all-year round with long bright summers guaranteed. Perth has a decent network of trains and buses. A travel card eases your way around. In the CBD, opt for the city cat buses to take you to all of the major attractions.

 CHECK OUT: The Museum of WA: fascinating exhibition on the Aboriginal history and its involvement in the pearl trade. Fremantle prison: It's a World Heritage site built and housed by  Australia's first migrant convicts. I strongly advise you to take a  guided tour through its vast grounds. You will see a gritty underside to Australia's European roots. Cramped cells, dingy showers, and the eerie gallows make this visit worth every cent!
Darwin, Northern Territory (NT)
Snapshot: Darwin is a sleepy town with an even slower pace of life compared to its urban contemporaries. The CBD is not dissimilar to some suburb town centres with one street being the hub of night activity. Mitchell Street is backpacker central with hostels lined up on all sides.  Fun vibe to it if you're passing through but very limited in terms of exploration. The best part is being close to some of Australia's most important landmarks: Kakadu National Park, Lichfield and Katherine Gorge in Nitmiluk National Park. Discover waterfalls and terrain that can't be mirrored elsewhere.
A cautionary note: There is a very sad aspect to Darwin. You will encounter Aboriginals sitting on the street getting drunk and on occasion acting aggressively – one tried to take my food off me. Police brusquely usher them away, which I found quite distressing. It reminded me of that painful part of Australian history and for that reason I didn't like Darwin. Darwin dwellers are friendly and very outdoors but lack cultural awareness. Their mentality is a bit out-dated but nothing awful; they will always help if you need it.  Climate is divided into wet and dry seasons. In Wet season the rainfall can be pretty brutal especially given the sticky humidity. Modes of transport are pretty basic with infrequent buses being your main way of getting around.

 CHECK OUT: Museum and Art Gallery of Northern Territory. Great exhibitions on Aboriginal culture and an impressive story about Sweetheart- a  five metre crocodile that was  accidentally killed and now on show at the museum.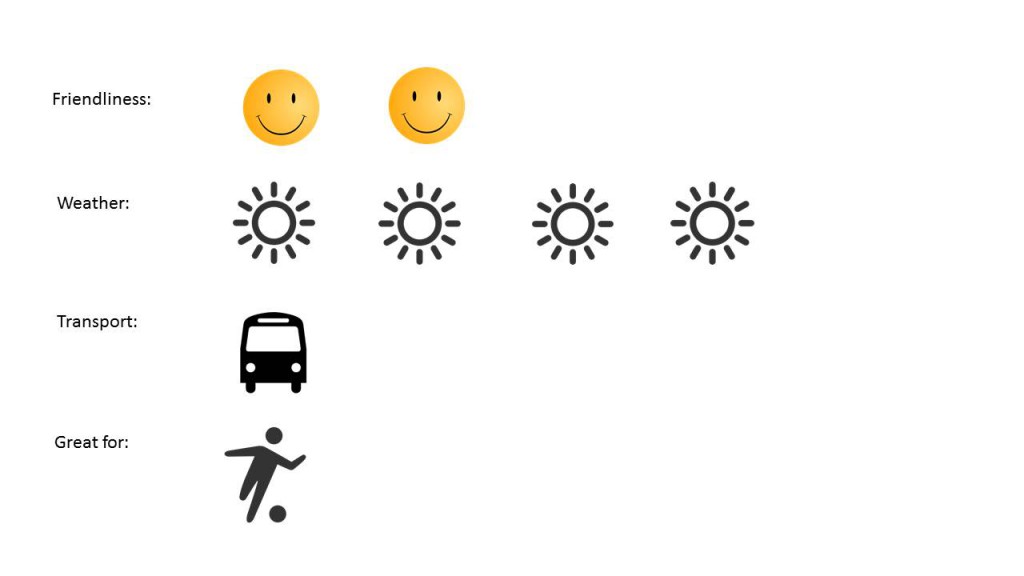 ---
Finding a Flat
So you've chosen the city, now to find a place to stay. All major cities have hostels centrally located. But while great for the short-term, they do not compare to a flat share. You get to meet locals and get a feel for living costs in Australia. Resources such as gumtree.com.au and – the one I most recommend – easyroomate.com.au are great resources. Be advised that Gumtree requires more scrutinising; some agents never reply and rooms can be dodgy. Do go around to check properties and ask occupants about whether furnishing is included. Most cases they are not, so you'll need to think about bedding etc. As always a deposit (Australians call it a "Bond") is required along with credentials (proof of work) and a month's rent upfront. Apart from that living costs are not too bad. Rent and utilities are way cheaper than in the UK but food and petrol can be expensive. My average weekly food shopping bill was about AUS$40-60.
---
Making Friends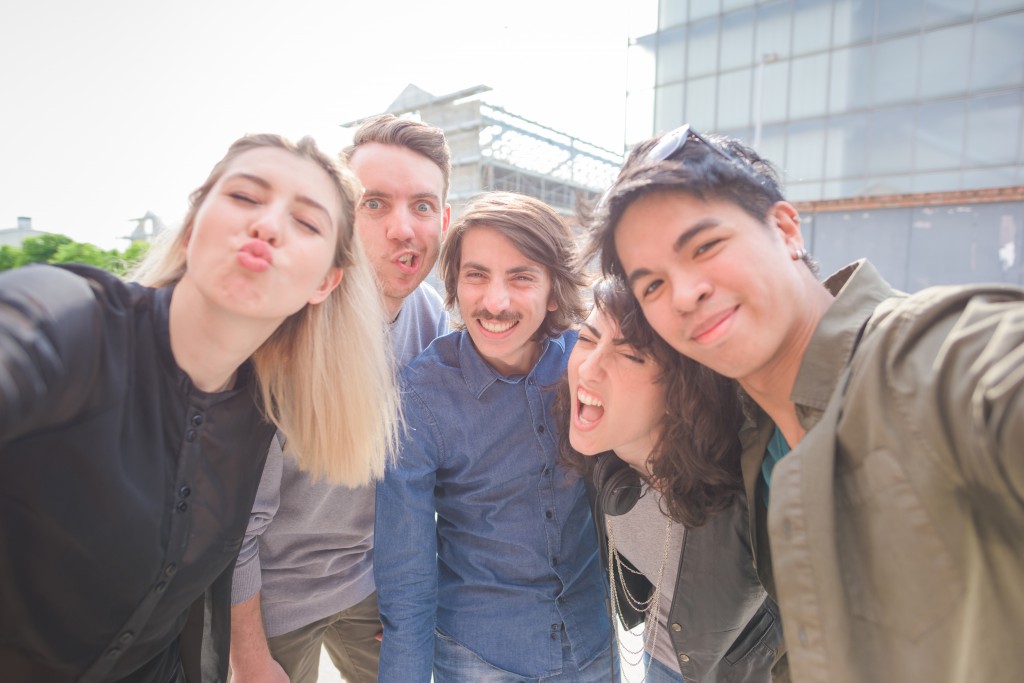 If you want to get the most out of Australian living, a good circle of friends will see you right. Of course work colleagues and flatmates are instant social groups, but in the beginning I joined an online community called Internations. This connects you with other expatriates in your host city. Each city has an ambassador who organises regular cocktail nights, outings and activities. Most events are free except those that are to festivals/exhibitions. It's a great way to meet other people who are far from home, so you can lean on each other during those niggly bouts of home-sickness. Local social groups also get you into the Australian community. Groups such as Meetup.com.au; Fun, Food and Friendship (Melbourne specific) and Gumtree.com.au will get you mixing with a good variety of people.
Lost in Translation:
You may think that because Australians speak English, communication is one thing you've got nailed. BUT! There are some Antipodean phrases that  will either offend you, or just sound plain wrong when in fact they are harmless. Likewise words of phrases that are fine in UK English just don't fly in Oz. So below are some of the popular phrases you'll hear as well as those I found out for myself- mainly through awkward situations
---
Putting the "Holiday" in to your working holiday visa.
Once you're settled in, the next bit is to pen in some travelling. A Working Holiday is seriously a waste of time if you don't. In between work I spent a lot of time travelling interstate. Mainly staying on the east coast, I spent Christmas up in Port Douglas and Cape Tribulation (QLD), NYE in Sydney (bucket list ticked off), and my birthday on Fraser Island. They were easy to plan and lots of fun. All were booked via the Flight Centre who are very helpful and will tailor your holidays to what you want. Below are some pics.
Go West!
Let me be clear: the East coast is gorgeous, but to me West is best! The tour I did of WA was just so much fun and blew my mind away. Unlike the more developed Eastern fronts, WA is largely untouched with little infrastructure. Therefore this trip  took a lot of planning, research and time. I started in Perth, giving myself five days get a feel for the state capital. I stayed with a couple at North Beach who took me around.  Perth in my view is the Australia you see on TV; beautiful beaches, friendly, neighbourly locals, blissful weather. It's a quaint city that has so many suburbs to explore not to mention a haven of vineyards and wineries. Check out Swan Valley and Margaret River.
I loved Perth but that was just the tip of the iceberg when it comes to WA's delights. To take me further into this gargantuan state, I joined a tour booked via Intrepid Travels. Throughout the course of 10 days, I explored some of Australia's remotest landscapes in the Outback, journeying from Perth up to Broome.
NOTE: For WA, I do recommend joining a tour, as once you're out of Perth, the Outback lies ahead and it's VAST! You're literally free-wheeling and if you don't have a car, you'd have to be one hell of a gutsy hitch-hiker. Scarred by films such as "Wolf Creek" and "Hostel", a group camping tour felt like a safer route and for solo travellers it's a great way to meet people.
To keep us adventure-hungry was our fearless guide Chrissy – a true nature lover who mothered and bollocked us in equal measure. Our group was about 14 solo travellers ranging from 18 to mid 40s mainly from Europe but also the US.
It was the most fun I had ever had and definitely brought out the Bear Grylls in me. The tour consisted of some DIY stuff (making our own food, cleaning up and pitching camps) but also included rock climbing and hiking through gorges in Karinjini national park, snorkelling in Ningaloo Reef (the West Coast's version of Great Barrier Reef) and Exmouth (CHECK OUT: Turquoise Beach is the most beautiful beach I have ever seen with wonderful coral reefs and fish), and camping under a blanket of stars in the Outback. You have to be relatively fit to keep up with the hikes but if you have a good group, everyone helps keep you going.
Once in Broome I left the tour group to explore the town. It is beautiful but ridiculously hot. Cable Beach is famous and is worth a moonlight visit. However avoid a dip in summer as the waters are full of jelly fish. Broome is also renowned for the pearling industry where Aboriginals were enlisted to dive into the waters to fetch the oysters caught in nets. All the shops will have some reference to this heritage. But it is a small town and very basic. Social life is limited to the few hostels and everything closes down early.
After a brief respite from my WA tour it was time to get back on the road and continue my journey northwards towards Northern Territory. Taking a small plane from Broome International Airport (it's tiny), I flew out to Darwin. After a few days exploring, I joined another group tour to go further inland and discover Kakadu National and Litchfield. Kakadu is one of Australia's cultural heavy weights that boast rich terrain and wildlife, and ancient Aboriginal sites. You'd be an idiot to not explore it and for me beats Uluru (Ayers Rock) hands down. Hiking through its plains in Wet Season is tough work but really satisfying especially when you've got the prospect of bathing under a huge waterfall. I also enjoyed a cruise on the Yellow River, renowned for its population of crocodiles though as water levels were high, I didn't see any.
In all, this last trip was physically exhausting but humbling. The kind of wildlife and nature you encounter is off the chart and for me made me respect it so much more. It also made me think of the times Australians told me about how disadvantaged they feel about having such a short history of civilisation. Sure in comparison Australian's period of settlers is really young. But what hits home is its natural history. With rock formations that outstrip your life a ga-zillion to one, rugged landscapes, ancient cultures, I can only say that it is far richer than anything else I have seen. It is the kind of experience that could be a bucket list contender!
---
Final Verdict: "Should I go or should I stay?" 
It really is what you make of it, but hopefully this guide will get your Working Holiday Visa off to a flying start. I can see why so many don't want to leave- weather is lovely and invites you to be outdoors, pace of life is better (but for how long I don't know), and it's mega safe.
So why did I come back? 1) I missed my family and not even social media could mend the huge gap between us. 2) I missed Europe, its culture, accessibility and food (Australia is a long way from anywhere) 3) As a single city girl it didn't feel any different to living elsewhere and 4) Journalism is just as fledgling a career there as anywhere else- sorry to dishearten budding journos!
But that's just me. Personally, it depends on who you are. I do think that if you're in a couple who want to settle, Down Under is perfect. However, regardless of whether you draw the line at a year or take it further, Australia is really something else. All I can say is the decision is yours!