They say no two curls are the same. Well the same goes for curly-hair salons. I've been to a few; from the bohemian Unruly Curls in London's Ladbroke Grove to the playfully surreal in Melbourne's Neel Loves Curls. And now there's a hair salon that gives curls the real glamour treatment. During my Italian Sabbatical I booked an appointment with Fulvio Tirrico, top hairdresser and founder of ILoveRiccio (Italian for "I Love Curls"), a stylishly decked out salon headquartered in Milan. It's been in operation for a mere five years but is so well known that it is now the country's curly-hair hot-spot. Fulvio himself is a household name: he is among the world's top curly hair stylists – alongside the likes of Lorraine Massey and Ouidad and is the brains behind the X-Curl Cut– a patented method of cutting natural hair. The ILoveRiccio brand also extends to its own line of products and hair dyes- (check out my product review later on). So with accolades such as this, and a hairstyle that is 6 months old, I jump at the chance at putting my curls up for the chop and find out what puts the "X" in the X-Curl cut.
"I felt like I had something in my hands, the technique, a loyal client base, a brand and the right products. Mixing them altogether the project was like a bomb exploding…" Fulvio Tiricco, Curly Coach
I'm on a tram towards Milan's northern suburbs. It's a residential route dotted with cafes and shops. As the tram veers right I catch a glimpse of ILoveRiccio. I feel the anticipation- I think my curls sense it too. I've seen this salon on Instagram and Facebook so many times; a clean glass façade framed in black with its masthead sign in white, punctuated by a big red heart. Inside, ILoveRiccio is pristine, much in keeping with the Italian fashion capital itself. Its interior is gleaming white with styling stations lining the perimeter. A long rectangular table dominates the centre where steam treatments are undertaken. At the end of the room on the right looks like a cocktail bar. It's where the hair dyes, (all natural and formulated by Fulvio himself), are mixed in Manhattan-style cocktail glasses.
I meet Fulvio who is crowned with beautiful silvery curls. I notice his cool Balenciaga kicks, a tattoo sleeve on his left arm. I've got stars in my eyes; back in 2014 when I was getting into curly-hair blogging while learning Italian, I came across an interview with Fulvio on NaturallyCurly.com. Since then I've followed him and read his autobiography Curly Coach.
Like many of the movers and shakers in the curly-hairstylist world, Fulvio's rise to becoming Italy's curl king is one of a self-made man who noticed how little was known about styling curls. He comes from a family of hairdressers and fondly remembers his younger years assisting in his father's salon. Upon finishing college he pursued an international programme of training (mainly by writing to various salons around the world) that took him to London, Barcelona, New York, where he trained at the illustrious Devachan Academy. He is part of the Curly Hair Artistry network and is among the top influencers in natural hair.
What the X-Curl Cut delivers…
The X-Curl Cut has exciting selling points:

1) It promises a cut that is easily-maintained at home.
2) It keeps your length while giving volume to areas that lack.
3) It lightens locks and most importantly rejuvenating curl definition.

The method is a synthesis of Fulvio's experience training in academies like Vidal Sasoon (who pioneered the iconic asymmetric bob) in London and Lluís Llongueras in Barcelona. More specifically at Vidal Sassoon he learned the techniques of applying form to hair. "This academy revolved around the geometry of hairdressing, the precision of lines, it was almost like a sculpting academy…(its) teachings were fundamental to my conception of the X-Curl."
But it wasn't until Fulvio went to New York that he discovered a completely new approach to hair styling that would complete the X-Curl formula. He undertook a placement at a salon in Hell's Kitchen and came face to face with a revolutionary way of cutting hair: "In Rina's salon there were so many Afro-American customers. I had never known how to style Afro hair and it struck a chord with me! I noticed instantly their approach to cutting this hair was totally different to what I had been used to in the past. They cut it dry like they were sculpting it using strange products to soften it like oils and butters."
Upon returning to Italy he decided to make styling curls his opera del'arte. As I've heard too often from entrepreneurs in the curly hair world, his ambitions were met with skepticism, but that didn't stop him. He was convinced he was on to something. Sure enough in 2015 he opened his own salon and harnessed the power of social media to bring his expertise to the online generation. He currently travels monthly between Milan (his flagship) Rome and Bologna on a curly hair tour to "allow all curly hair girls access to his team of experts and stylists."
X marks the spot – The Cut in Action
"When someone watches me cut curls…I go from one side of the head to the other like a butterfly…I take a lock of hair, turn it, pick it up put it down…the proportions, volume, understanding how hair moves, how it falls on the face.."
I sit down and free my three-day raggedy curls from the bun – my go to style for when my hair looks bad. Facing my reflection Fulvio starts pulling at the frizzy strands, positioning then re-positioning my parting. Curious at his thought process I ask why he calls this method the 'X' Curl? He replies: "It's because I divide the hair into an X shape before starting to cut."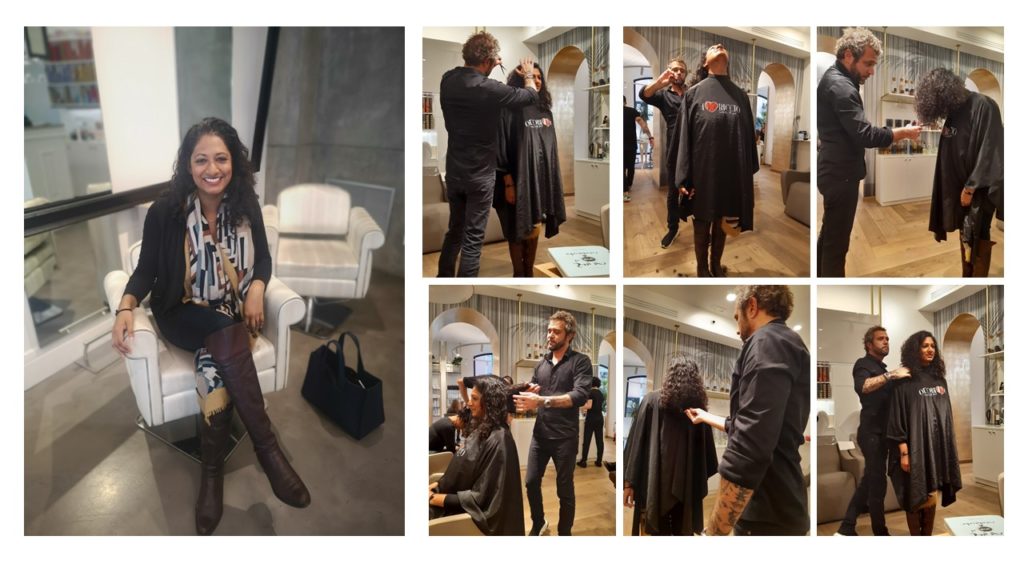 I'm no stranger to being kept on my toes during a curly haircut. However the X-Curl takes this to another level. Fulvio gets me to stand up, tip my head forward, tilt it back, look left and then right. All the while he is darting around my head, cutting curls from every perceivable angle. I couldn't feel anything except the odd ruffle of my hair and hear the intermittent sound of scissors snipping away, no doubt Fulvio working over the layer pattern seeking to balance the volume and proportions. It takes altogether thirty minutes.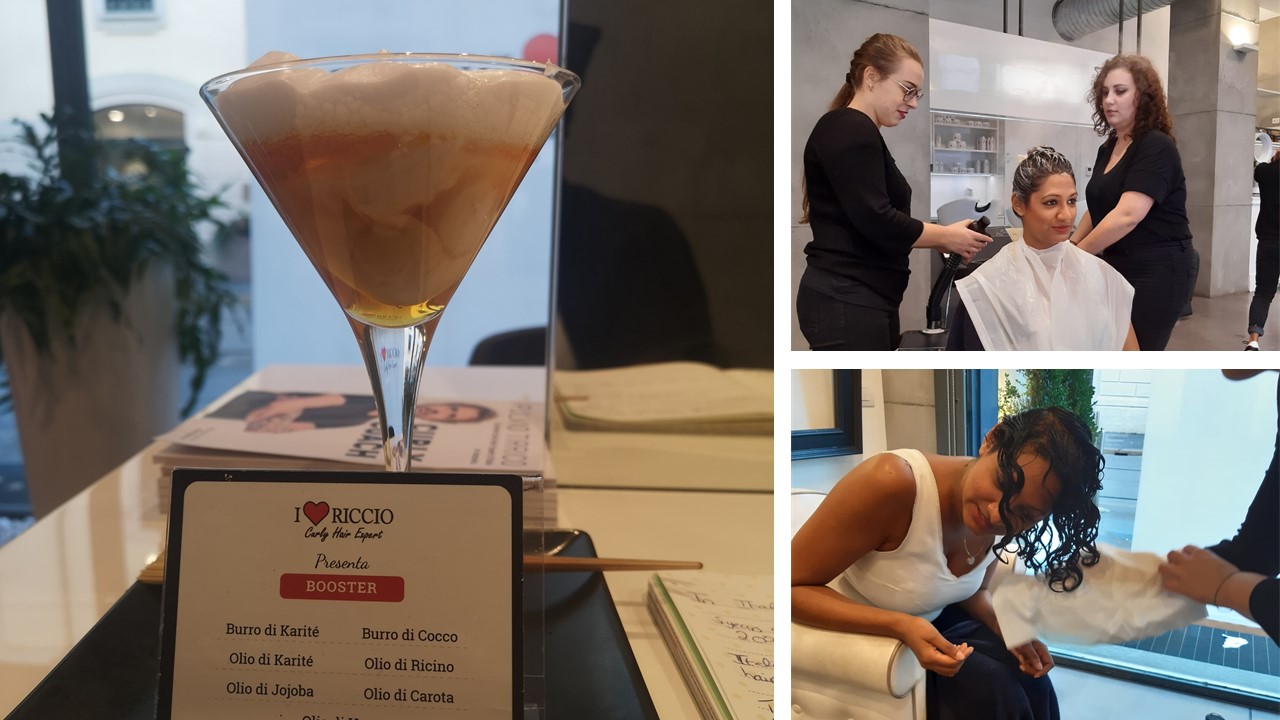 I next get lead to the washing station. I lie back and while a nice lady called Julie tends to bathing my hair, the chair comes alive pulsating and thrumming up and down my back- a massage that zens me out! Julie uses shampoo and conditioner from Fulvio's own range, a line of products specially formulated by himself that are available instore and online: He tells me: "(These products) are created by someone who works with curls 365 days a year not by a company trying to fill a gap in the market". Also if you order online you have access to their support service on how to use them so you can get the best results…" (I'll give you my opinion in my product review at the end of this post).
After a blissful massage and curl cleanse. I am ushered to the central table for a sumptuous steam treatment. My hair is coated in "The booster" a creamy concoction presented in one of those chic cocktail glasses I saw. To the untrained eye it looks like a frothy espresso martini but it's actually filled with curl-nourishing ingredients that include shea butter, cocoa butter, jojoba oil, and castor oil. My hair is then wrapped in a towel and surrounded by steamers. The moisture and heat open the follicles so that my hair can better absorb the goodness in the booster formula. I sit and relax for about 20-30 minutes enjoying the steam permeating my scalp. My hair is then rinsed out, a styling cream applied while wet and a micro-fibre towel used to seal the curls. Fulvio then reappears for the final finishing touches. He inserts curl clips at the roots and applies a diffuser.
The ACM Verdict:
"When I took the decision to specialise in curls, people tried to discourage me in any way possible. They told me Italy isn't ready for this type of business. But I was stubborn and wanted to do what I loved. What I love is curly hair!" Fulvio Tiricco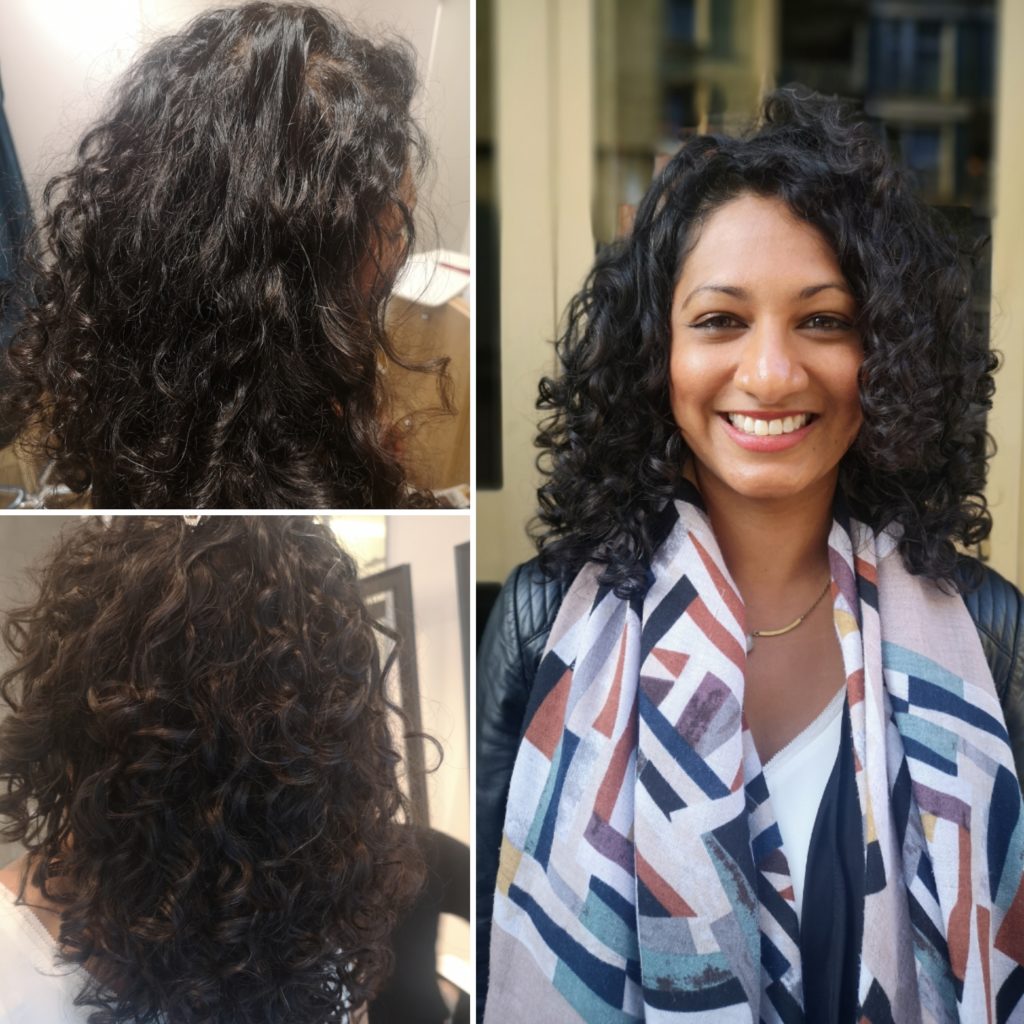 Like many curly haircuts the X-Curl cut is not cheap, it will set you back 160€ (£140!) So expectations are high right? Well as far as the cut is concerned, the results are great but in line with what I've had from some salons: short, bouncy, fresh and frames my face nicely. As you can see from the back, there is more structure and the curls look more lustrous. I also like the length and can definitely see a more complementary style which shows the X-Curl is effective.
What sets ILoveRiccio apart is experiential…it connects indulgent luxury with attentive curl care.
No doubt this team know what they are doing. But for me it's the execution – from cut, to wash, (and massage), treatment and style – where the price has value. What sets ILoveRiccio apart is experiential. As I said I've been to many curl salons, each with their own inimitable style. But they tend to be tucked away and fashionably rough around the edges. ILoveRiccio stands out sleekly. Yes in some ways it comes across more mainstream and commercial but that doesn't mean it lacks heart. it connects indulgent luxury with attentive curl care. When I left ILoveRiccio I was blissed out and wanted to strut around Milan's fashionable city centre with my newly-revived curls. And what better proof is that, fellow curlies, to knowing you had a good cut day?
An X-Curl Cut with Fulvio costs 160€. You can opt to have a haircut with an associate for: 100€. For a full list of services, visit: https://www.ilovericcio.it/categoria/servizi/
ILoveRiccio: Via Lorenzo Bartolini, 52, 20155 Milano, MI, Italy
w: https://www.ilovericcio.it/ t: +39 02 3921 1300 E:info@ilovericcio.it
______________________________________________________________________________
ACM PRODUCT REVIEW: The Hydration Kit for Curls,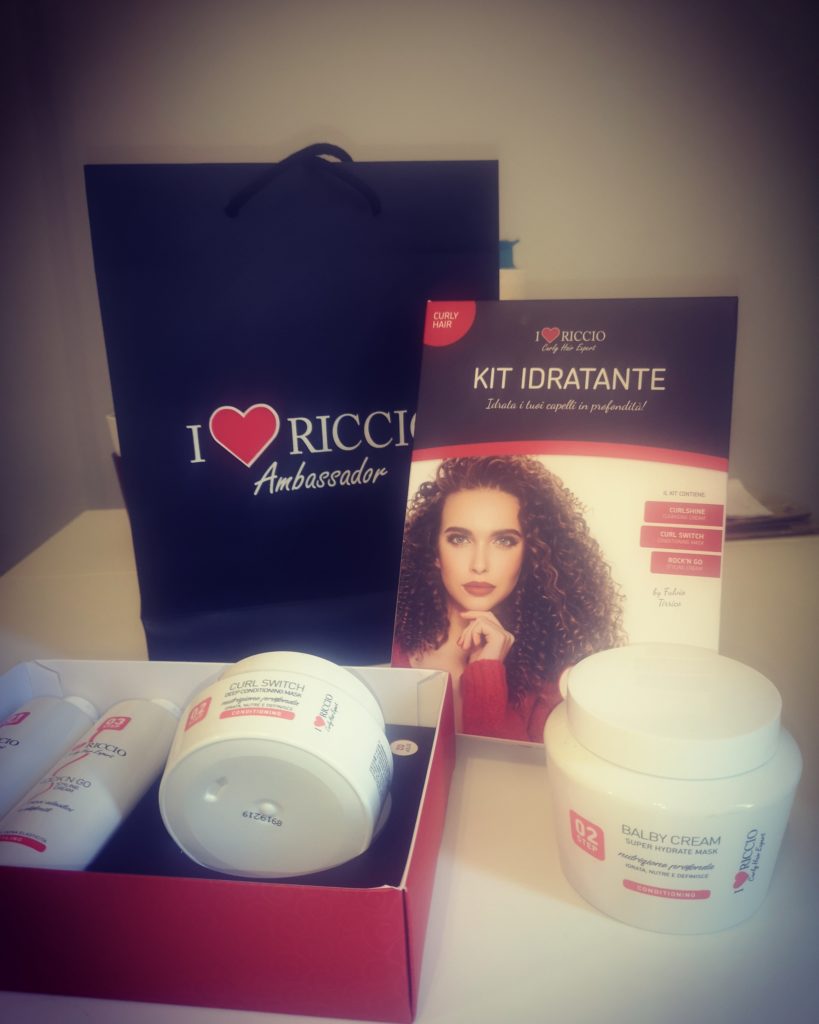 To experience the full gamut of ILoveRiccio products, go for one of their style kits, each geared towards the type of texture you have. For a type 3 curly like me Fulvio recommends the Hydration kit.
It comprises of a shampoo, conditioner and styling cream. The shampoo is very light, hardly lathers when massaged into my hair and upon rinsing leaves a coarse finish on my fine hair. The conditioner however is divine, beautifully scented and restores the softness that perhaps the shampoo takes away. Upon rinsing out with ice-cold water I separate the curl strands and then pour a small amount of Rock 'N Go styling cream into my palm adding a few drops of water. The two dissolve well and leaves no greasy residue which is good for finer curls. I rub my palms together ensuring the mixture coats my fingers including in between. Turning my head upside down, I evenly rake the cream through the strands and then squish upwards. Depending on the weather I let the hair air dry or use a diffuser. The result: great curl definition, shiny healthy. I still use them today and am really happy with the results.
I also tried the Balby Cream hydrating mask which is to be used once a week as a deep-conditioner. It is equally nourishing and nicely scented. It also makes a great substitution for when the conditioner ran out and it's lasted me ages (10 months and counting when used once a week) so is well worth the cost compared to others. My advice, especially if ordering abroad is to get the conditioner and styling cream and teem it with a good shampoo (Innersense Organic, Davines). Or get the Balby cream and/or conditioner as a cowash!
Price List:
Hydrating Kit: 70€
CurlShine Shampoo 20€
Curlswitch Deep Conditioner 25€
Rock 'N Go Styling Cream 25€
Balby Cream Super Hydrate Masque: 40€

Available at ILoveRiccio, instore and online via ILoveRiccio.com